For Moroccans, harira soup is a Ramadan ritual.  Every evening families sit down to bowls of steaming harira – even when daytime summer temperatures soar about the 100F mark. As far as soup recipes go, you'll find quite a few ingredients in this one, however, don't be intimidated as the process itself is pretty simple.
I love soup, but the last thing I want to do is leave my stove on for hours during the hottest part of summer. Instead, I created this quicker version to satisfy the Ramadan ritual but keep my house at a tolerable temperature.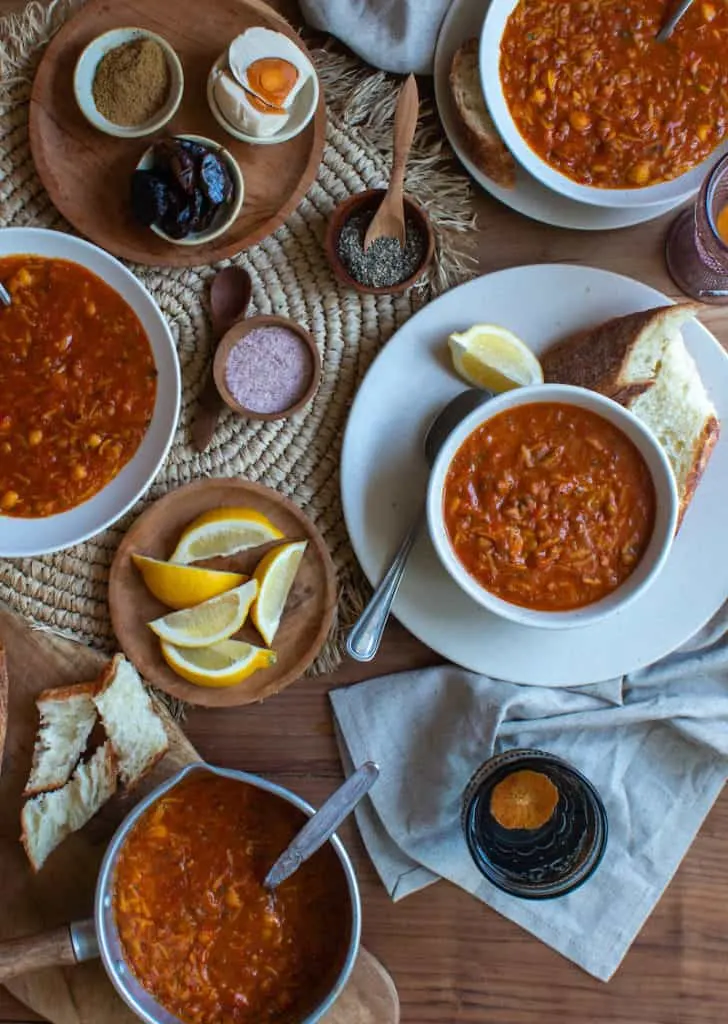 Traditional harira is made with dried lentils, dry chickpeas, rice, vermicelli noodles, a potpourri of herbs and spices, vegetables, and meat – most often lamb. If you've ever cooked with dry chickpeas you'll know this part of the cooking process can take hours, just to soften the beans.
I really prefer this soup without meat (but that's kind of every food lately!), and omitting meat automatically cuts off cooking time.  My next shortcut is to use a pre-made broth and canned chickpeas.
This dish is not only vegetarian but it's a vegan Moroccan harira soup. I use brown lentils as they are easy to find in Morocco and inexpensive but you could also make this with red lentils, just add them a little bit later as they don't take quite as long to cook.
This soup takes 45min to 1 hour to make.  Traditional harira takes several more. You might not be making this every night, but by making one big pot you'll be guaranteed leftovers.
To preserve, transfer soup to smaller-sized, freezer-safe containers and allow it to cool completely. Cover the containers, and pop them into the freezer.  When you want to use it again, transfer it to your refrigerator until the soup can be removed from the container.  You could also submerge it partway in warm water.  Heat through in a pan on the stovetop.
[wprm-recipe-jump]

YIELD:12 SERVINGS
Moroccan Vegetarian Harira
Harira is a staple soup made during Ramadan in Morocco. My version is gluten-free, vegetarian, and ready in an hour!
1 large onion
3-4 cloves of garlic
1 Tablespoon olive oil
5-6 medium tomatoes
1 palmful chopped Italian parsley
1/2 palmful chopped cilantro
6 oz tomato paste
1 teaspoon salt
1 teaspoon black pepper
1 Tbsp turmeric
1 Tbsp paprika
a pinch of saffron (optional)
1/2 cup garbanzo beans soaked overnight)
1/4 cup brown lentils washed and soaked
1/2 cup broken vermicelli or long grain rice
3 Tbsp cornstarch
6 cups water
food processor
Heat olive oil in a large stockpot.
Puree onion and garlic in a food processor. Add to pot and sauté with the oil.
Puree tomatoes with parsley and cilantro and add along with another tablespoon of olive oil.
Season soup with salt, pepper, paprika, turmeric (and saffron if desired).
Add water and tomato paste.
Bring the soup to a boil and add lentils and garbanzo beans. Cover and cook until tender.
The length of time will vary but should take about 25 minutes.
Once beans are cooked, add the pasta or rice and continue to simmer for another 15 minutes.
When the lentils, beans, and pasta/rice are cooked through it's time to thicken the soup.
In a separate bowl whisk together cornstarch and 1/2 cup of warm water until it is a thin consistency. There should be no lumps. Begin to stream the slurry into the harira. The soup should begin thickening almost immediately.
The final consistency will be between a soup and a stew. However, you can make it as thick or thin as you like.
Harira is typically served with dates, boiled eggs, and chbekiya during Ramadan but it also can be accompanied by lemons to squirt onto the soup and extra salt, pepper, and cumin to season.