Ramadan will be starting this week and in our house, that means stocking up on the "must-haves" for breaking the fast and cutting down on time spent in the kitchen. One of the staples in every Muslim home during this month is dates, and in my home, that means Medjool dates.
Truth be told before I met my husband and visited Morocco I had never eaten a date. I wasn't even really sure what they were. But now they are one of my favorite snacks! You can use them in so many different ways. There is a wide variety of dates on the market and everyone seems to have their favorite. For me, Medjools have always been the best.
Why? I really dislike hard dates. I don't like the chewy ones either. Medjools are big and soft. They pair well with other foods (stuff them with blue cheese and thank me later) and you only need one or two to get a sweet fix. But what happens when you're invited to a last-minute iftar or you want something a little bit more than just the dates. I've made these for Ramadan events at our mosque and they've always eaten right up!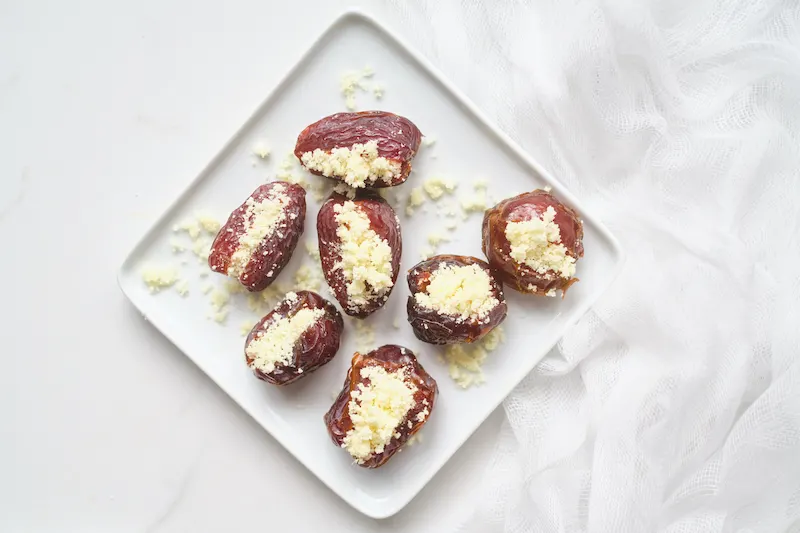 Almond Stuffed Dates
Ingredients
12 Medjool dates
1/2 cup almond flour or ground almonds
1-2 Tbsp argan oil (culinary grade)
1/4 cup powdered sugar
2-3 drops orange blossom water (optional)
Directions
In a bowl mix the almond flour with argan and powdered sugar to create a paste.
Make a slice in the side of each date and remove the pit.
Stuff each date with the almond filling.
Serve!
Coconut Stuffed Dates 
When you've had just a few too many nut desserts it's time to try something different!
Ingredients
12 Medjool dates
1/2 cup shredded unsweetened coconut
1 Tbsp argan oil
3 Tbsp powdered sugar (omit if using sweetened coconut)
Directions
Mix together the coconut, argan, and powdered sugar.
Cut a slit into the dates and remove the pit.
Stuff dates with the coconut filling.
These are very simple recipes but take dates up a notch and make them something special. Whether you like your dates alone, stuffed, baked, or chopped up, you can't go wrong.
Ramadan Mubarak!