This salad might win for the oddest "salad" in the books, although I'm willing to bet that a jello "salad" might be a tough contender in that category.  The first time this was served to me I know I gave it buggy eyes, like "who would think potato, rice, and carrot made a salad??"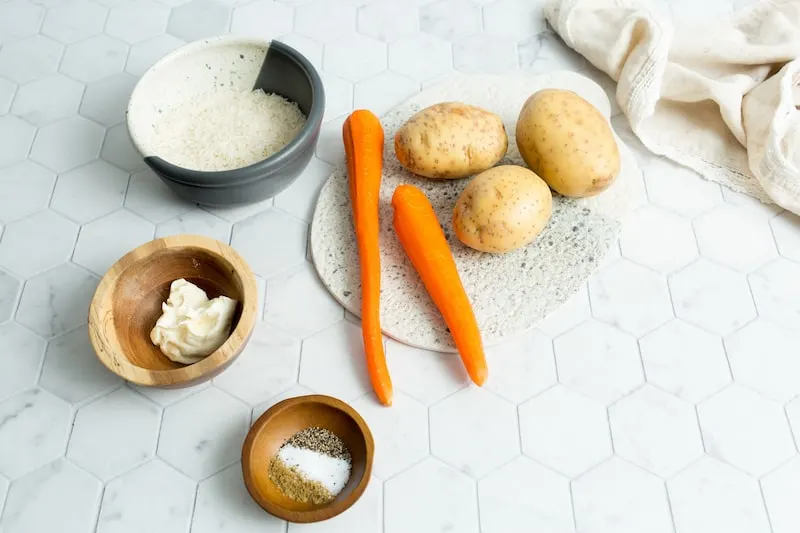 It seemed just absurd.  I ate it because that's what you do to be polite.  Often times this is made with pieces of canned tuna as well. If you decide to add that you've basically got yourself an entire meal. I'm willing to bet canned chicken might have the same effect.
If you're making a Moroccan spread, it's a good salad to add to a trio or quintuple salad tray, if purely for the "wow what is that" factor! Looking for more inspiration for that salad spread? Look no further than my page of Moroccan salad recipes.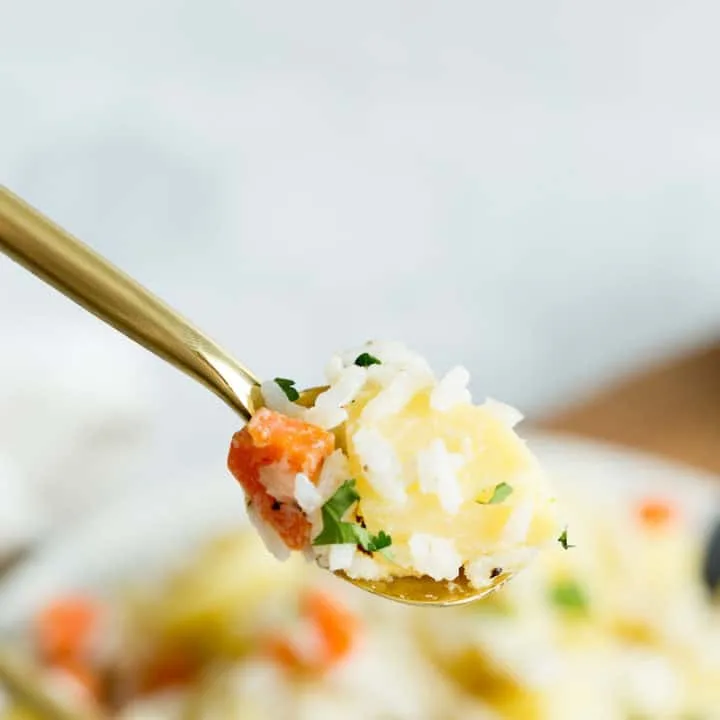 YIELD:4-6 SERVINGS
Moroccan Carrot, Potato, and Rice Salad
additional time:
45 MINUTES
total time:
1 HOUR
25 MINUTES
A Moroccan version of potato salad that also includes rice and carrots.
2-3 small to medium potatoes
2 carrots
3/4 cup of rice, rinsed
1 tbsp mayo (real mayo folks)
1/2 tsp cumin
salt and pepper to taste
Peel potatoes and carrots.  Boil in water until tender but not too soft, they should still have a slight bite.  Think something equivalent to al dente pasta.
In a separate pan boil 1 cup of water to 3/4c rice.  Cook until tender, adding more water if needed.  (Check the package, cooking time and ration will depend on the type of rice you use.)
The carrots will most likely be tender ahead of the potatoes.
Remove from water and put into cool water right away.  This will help keep the color.  Once cool to the touch, quarter each carrot and cut it into small squares.
Place into a large bowl.
Do the same thing with the potatoes once they are tender.  Add to the bowl with carrots.
When rice is tender rice with cold water to cool off.  Add to bowl with carrots and potatoes.
Take one heaping spoon of mayo and mix it into the vegetables and rice. Stir softly, so as not to break up the potatoes, until mayo is combined.
Sprinkle the 1/2 tsp cumin on top and mix to combine.  Do the same with salt and pepper.
I recommend serving this salad at a cold temperature. It is eaten at room temperature but I think it tastes better cold.
Place onto a serving plate and eat with a spoon.