Many Moroccan dishes require little in the way of special ingredients. They rely heavily on staple foods and seasonal produce. However, if you want to be prepared no matter the dish, the following items will help make sure you are prepared.
Many of the pantry items you can make at home and work well if you've got time. If you're more into purchasing ready-made items I will also share suggestions on where to buy them as well.
Moroccan Spices
I have always bought my spices pre-ground as I just don't want to have another appliance in my kitchen, however you can buy whole spices and grind them if you prefer to do it that way.
While recipes will give quantities to be used in a dish, in Morocco it's really more a liberal interpretation. Once you're comfortable feel free to play with the amounts to make things your own.
Is Moroccan food spicy?
One of the biggest misnomer's people have is around the idea of spices = spicy when it comes to Moroccan food. Overall Moroccan food is not spicy hot. It uses a lot of spices but they create a more layered flavor combination than a pepper-feast on your tongue.
If you're expecting a spicy heat flavor you will likely be disappointed. Instead what you'll find in many dishes is a play on sweet and savory flavor combinations. Hot flavors are only added sometimes as a "bump" to the dish.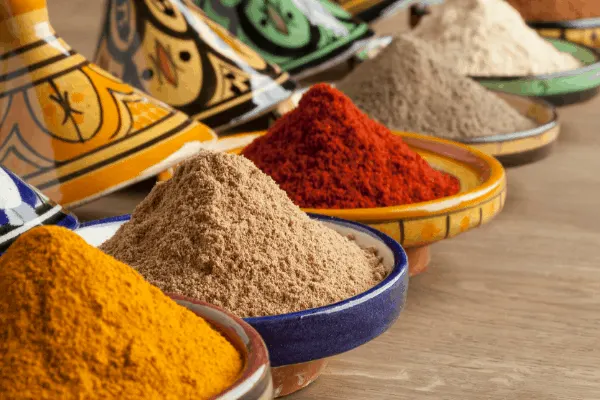 Do I need to buy a lot of spices?
Not really. There are 8-12 core spices that are used in most dishes. Having a standard pantry of spices will help you create most dishes. I'll give two examples below; one that is the "starter" spices and then additional spices you can add to your arsenal as you go.
Moroccan Spices List for Beginners
salt
black pepper
cumin
ginger
hot paprika
cinnamon
saffron threads
turmeric
Moroccan Spices to Add to Your Pantry
All of the above spices plus the additional spices of;
Ras al hanout (you can make your own too)
white pepper
sweet paprika
anise
nutmeg
fenugreek
bay leaves
Moroccan Pantry Items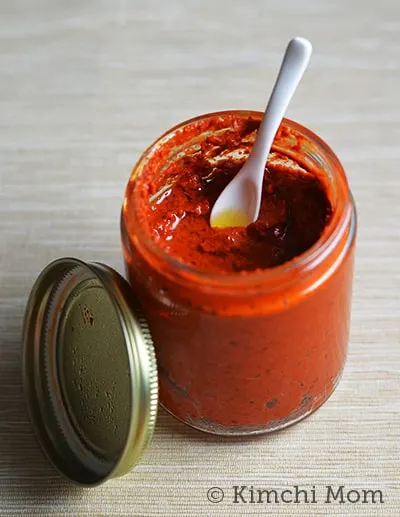 Once you stock your spice cabinet it's time to move on to the other pantry ingredients you will need. Instead of listing everything that might be used in different dishes, I'm going to list the items that are most common.
Non-Perishable Pantry Items
Preserved Lemons (a MUST)
Harissa
Black Salt Cured Olives
Green and/or Purple Olives
Olive Oil
Vegetable Oil
Tomato paste
Chinese Gunpowder Tea
Mint (dry or fresh)
White and/or whole wheat flour
Semolina Flour
Dry yeast
Dry Chickpeas
Dry lentils
Dry white beans (cannellini)
Dry fruits like apricot, prunes, and dates
Packaged Couscous
Perishable Pantry Items
onions
garlic
meat proteins – with bones left in
cilantro
parsley
potatoes
tomatoes
carrots
cucumbers
green peas/green beans
There are of course many other vegetables and fruits that you'll find but most are based on what's in season. In many tajines and couscous for example the vegetables are a bit interchangeable so you can use what you have on hand.
Other Moroccan Pantry Items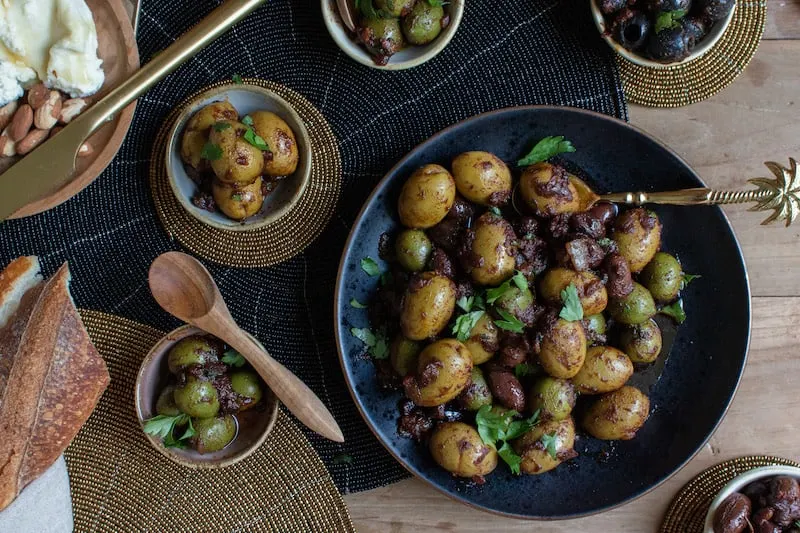 While the above will get you started cooking just about any Moroccan salad recipe or couscous recipe you fancy, there are several other condiments and Moroccan-inspired dishes you can make to accent your food as well. Not all of these are 100% traditional but they use Moroccan flavors and inspirations.
Harissa Mayonnaise
Charmoula Marinade
Moroccan Spiced Olives
Rose Petal Jam
Stuffed Green Olives with Garlic Olive Oil
How to Make Garlic Infused Olive Oil
Homemade Mint Syrup
Homemade Date Ketchup
Where can I Buy Moroccan Spices and Pantry Items?
In Morocco of course!
But, if you don't have plans or can't make it, you can buy a lot of these items online.
The Spice House is one of the shops that I've found online that carries nearly all of the spices you need for Moroccan cooking. Penzey's is another shop that I have used in the US to get good quality spices. Finally, if you go to the Mediterranean, Arabic, or Indian grocery store near you you'll find nearly everything on this list and usually MUCH cheaper than in a regular market.
For other pantry items, I've got a list of options that include some of my personal favorites tried and tested brands and products.