The first time we visited Morocco I didn't eat couscous, let alone the famous Friday seven vegetable couscous. It wasn't offered to us (but we did have chicken tajine with preserved lemon 27,847 times) and while I probably could have ordered it, I don't think in 2003 I knew what couscous was – it wasn't exactly "hip" in the US yet.
But when I did have it with MarocBaba's family the first time I wasn't a fan. In fact it took me quite a few years to really like it. The ingredients themselves are simple but it can very easily go wrong. You really need to have great flavors or the dish falls flat. There's a lot that can go wrong too.
Overcook the vegetables? Meh.
Couscous too clumpy? Not good.
Meat still chewy? Won't pass the mother in law test.
I believe most foods in the world have a base recipe and then there are variations created from the original. Master the base and you can start to experiment. For me, a seven vegetable couscous is the base of all other couscous recipes.
I will almost always choose a vegetable couscous over any other type because it's what I like best. If you're just getting started making couscous I also think you'll find it's easiest to learn and then move on to incorporating meat.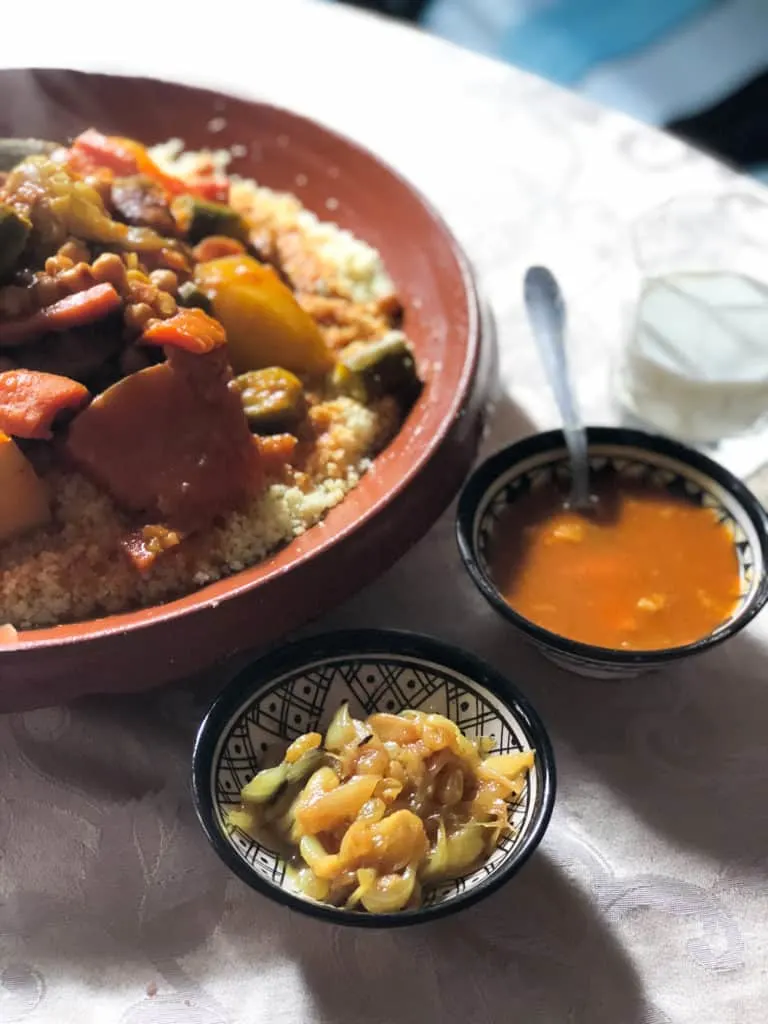 The number seven is considered a lucky number (or so I've been told) by some Moroccans. You'll often find it used – and a seven vegetable couscous is fairly standard. Do you have to use 7 vegetables? No of course not. Consider this a guideline.
I'll share some of the common vegetables in the recipe but truly you can mix and match whatever you've got on hand. Only have 5 things? Go for it. Want to use 10? Well you may need a larger pot but there's nothing that says you can't.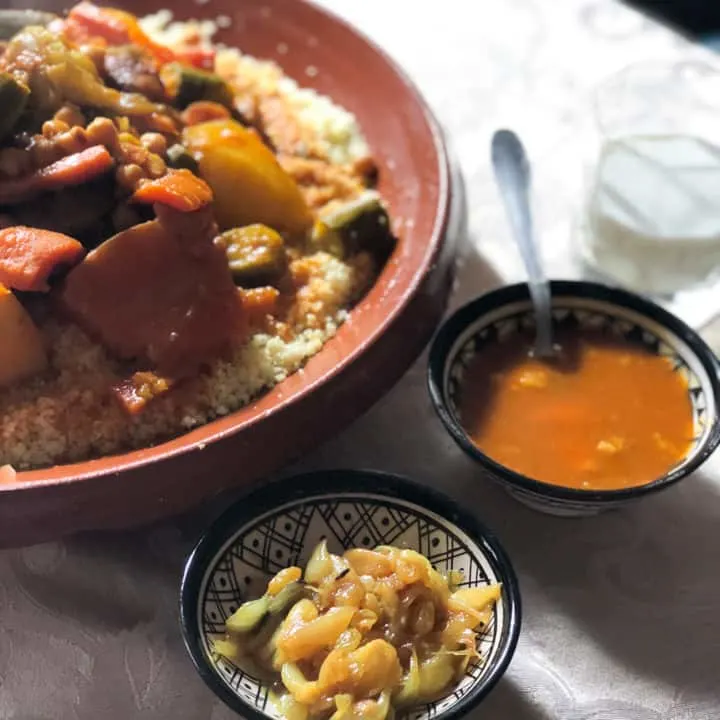 YIELD:6-8 SERVINGS
Moroccan Seven Vegetable Couscous
cook time:
1 HOUR
15 MINUTES
total time:
1 HOUR
30 MINUTES
A recipe for classic Moroccan seven vegetable couscous.
3 tablespoons olive oil
1 large onion, diced
2 teaspoons salt
1 teaspoon ground turmeric
1 teaspoon ground ginger
1 teaspoon ground black pepper
2 medium tomatoes skin removed and chopped
5-10 springs each parsley and cilantro – tied together
1 sweet potato cleaned and cut into similar size pieces as the squash
2-3 chunks of squash (butternut/pumpkin/acorn)
1 small turnip, cut into quarters
3 – 5 carrots, cleaned and quartered
1/4 wedge green cabbage
1/2 can chickpeas
2 medium zucchini, cleaned and quartered
1 small eggplant, ends removed and cut into quarters
1-2 hot peppers (optional)
I will provide the instructions for cooking in a couscousierre. However you can make the vegetable portion of this and serve it with couscous that's been cooked in a rice cooker or a stove top method.
In the bottom of the couscousierre, add the oil and turn the heat to medium. Begin by cooking the onions until they start to become translucent.
Add in 10 cups of water, along with the tomato and spices; salt, pepper, turmeric, ginger as well as the cilantro and parsley bundle. Keep the heat on medium low.
The first vegetables you will want to add are the hardest; sweet potato, turnip, squash etc as they need the longest cooking time. While these go in the pot complete the first steam of the couscous.
Steaming Instructions for Couscous
At the end of the first steam (approximately 20 minutes), fluff the couscous and prepare the second batch of vegetables. This would include the carrots, chickpeas, and cabbage.
After the second steam (another 20 minutes) you'll add the remaining vegetables. I add the hot pepper at the end but if you want the heat to really get into your broth you can cook it in from the beginning.
Finally the third steam (15-20 minutes) is complete and your couscous is ready to serve!
Give the couscous a final fluff and put into a large serving dish. Make a small well in the middle and arrange the vegetables on top. Reserve the liquid, pouring some on the dish while the rest is served on the side for guests to use at their discretion.
Other vegetables that you could use include; fava beans, regular potato, or parsnips. You can of course use green beans or peas as well though they're not common in couscous.
There's no science to the sizes of the vegetables. It is a good idea to keep in mind that everything that cooks with each batch should be a similar size.