I don't know if there's anything more Moroccan than a round loaf of bread.
Nope. There's not.
Let's just say no one in Morocco is going to be doing the Paleo diet anytime soon. Bread is so prevalent and ingrained (haha ingrained) in Moroccan culture my husband can not eat a meal without it. And before you say wait, well he CAN he just doesn't want to – no he really can not.
I used to make Moroccan bread almost every day when we got married – kneading it and all. Then we got a Kitchen Aid stand mixer and that made it a whole lot easier.
When we moved to Northern Virginia there was so much good bread at a cheap price that we would freeze and thaw bread instead of making it. I spent 2 1/2 years doing that and I really didn't miss making bread! Now that we moved back to Wisconsin the kind of bread we like is much more expensive and not the same quality so it seems like I will be going back to baking bread again. (this original recipe is from 2009 – we now live in Morocco!)
In reality it's pretty easy to make and I don't mind doing it if I have a little extra time. It does dry out quickly so if you are making it to last more than a day, throw it in the freezer after it's cooled (wrapped up of course).
The fun thing about this bread is that it's pretty forgiving.  You can use different kinds of flours, mixtures of flours, rising time and making it into different shapes.  Traditionally it is made into a round and there is some technique to making it the authentic way.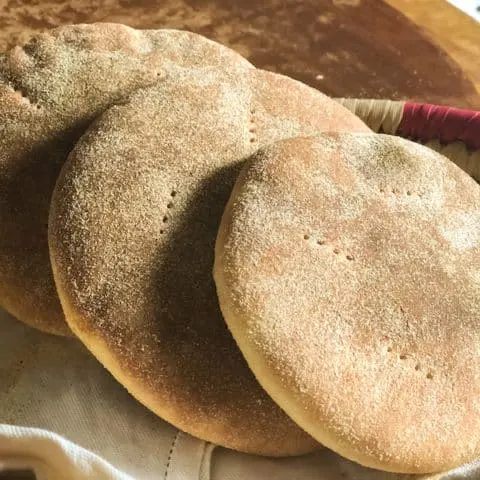 YIELD:3-4 ROUNDS
Traditional Moroccan Khobz
prep time:
1 HOUR
15 MINUTES
total time:
1 HOUR
35 MINUTES
This is a recipe for traditional Moroccan round bread, also known as khobz. My recipe is made using only white flour however you can add in wheat flour as well. You will need to adjust the water levels a bit.
Ingredients
4c and a little extra white flour – do not use self rising flour! ( you can also use wheat or half of each flour)
2 c warm water
1 Tbsp active dry yeast (or 1 pkg of Red Star or like brand)
2 tsp salt
1 tsp sugar
Instructions
In a small bowl add yeast, sugar and 1c warm water. Mix well and allow yeast to bubble.
In a large bowl add flour and salt. After yeast/water mixture begins to bubble pour into bowl with flour. Begin combining flour and water.
Have another cup of warm water to the side and add slowly to flour mixture. You may not use the entire cup.
Continue combining flour and water until you can form a ball. At this point it should be a bit sticky.
Pour vegetable oil into your hands and proceeds to work it into the dough. Again you may not use a full 1/4 cup.
Most of the dough should come off of your hands and combine into the dough that will be elastic but no longer sticky.
Knead for 8-10 minutes. You can do this by hand or in a mixer – if using a mixer reduce the time to approximately 5 minutes.
Oil the ball and the bowl and cover. Allow to rest 15 minutes.
Divide dough into 2-3 portions depending on the size of the bread you would like.
Using the divided pieces form 2-3 smaller balls.
Sprinkle flour on a board or counter-top and begin to push down the ball beginning in the center, similar to how you would form a pizza crust. Moroccan bread is traditionally in a circle shape however whatever shape you make it will not really matter!
The dough should be about 1/4″ thick and even on all sides.
Wrap in a towel and continue for the remainder of the portions.
Allow dough to rise about 45 minutes. Preheat the over to 400-425F.
Once dough has risen prick with a from several times and place on a cookie sheet or baking stone into the oven.
Cook until it begins to brown and makes a hallow sound when tapped – about 18-20 minutes. Remove from oven and allow to cool.