Msemmen is one of the best Moroccan breads that exist – and of course, it would be because essentially it's Moroccan fried bread. Typically they are made two times a day; for breakfast or in the mid-afternoon for snack/coffee time. You will find both a sweet and savory version of these. They are honestly one of my favorite things to eat!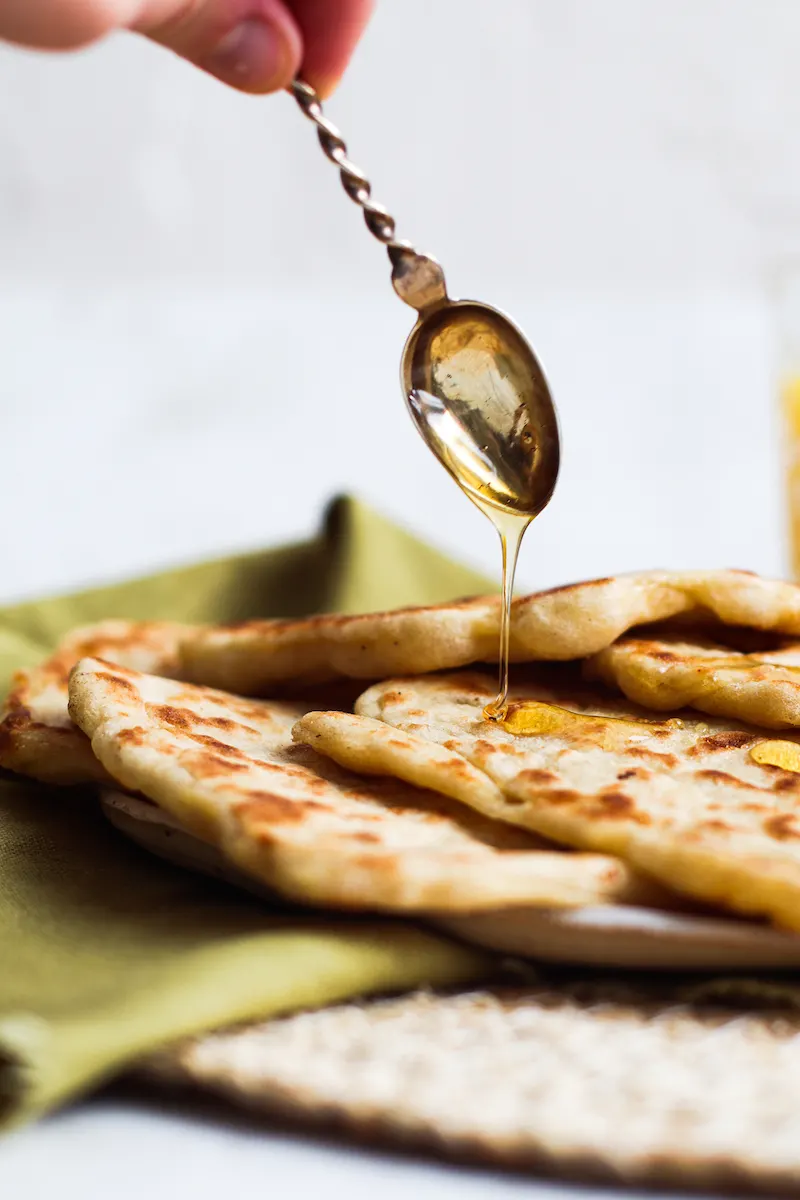 The sweet version is topped with melted butter and honey. It's sometimes called the Moroccan breakfast bread because it regularly makes an appearance on morning tables. Other people call them Moroccan pancakes but I think that title belongs to beghrir!
Some other names you might hear people call these (but these aren't official names!);
Moroccan chapati
Moroccan paratha
Malawi or meloui (similar recipe different way to shape them)
Moroccan fried bread
Msemen pancakes or Moroccan square pancakes
Moroccan crepes
Moroccan square pancakes
While the savory version is stuffed with spices and fat and cooked making something akin to a pizza. If you want to try that option check out my rghaif recipe.
How to Make Moroccan Msemmen
I highly advise you to set aside some time to do this. The first time can be a little frustrating and this isn't a great recipe to tackle if you've got a bunch of other things going on. Make sure to gather all of your ingredients first and prepare a large, clean workspace to spread out your work. I find that a large clean kitchen counter space works best – and then to work directly on the counter. It's a little more of a hassle to clean up but having the big space makes the folding and flattening faster.
This recipe is not easy to master. In fact it takes a few tries to really get the process down. An easy msemmen recipe is hard to come by because the trick is in how you mix the ingredients, fold and rest.
A few tips that might help you make msemmen at home;
don't be afraid to use oil and butter. This is not a health food recipe. The oil and butter is what helps you make the layers very thin before folding. If the layers aren't thin enough then you will just end up with a chunk of bread.
Cut the recipe in half if you're unsure. That way you will work with a smaller batch and won't use up too many ingredients before you master the technique.
There are different methods and variations of ingredients used to make this across Morocco. Feel free to mix it up based on the region you're familiar with.
You can try to make this using whole wheat flour but the texture will be much firmer so don't knead it as much in the beginning.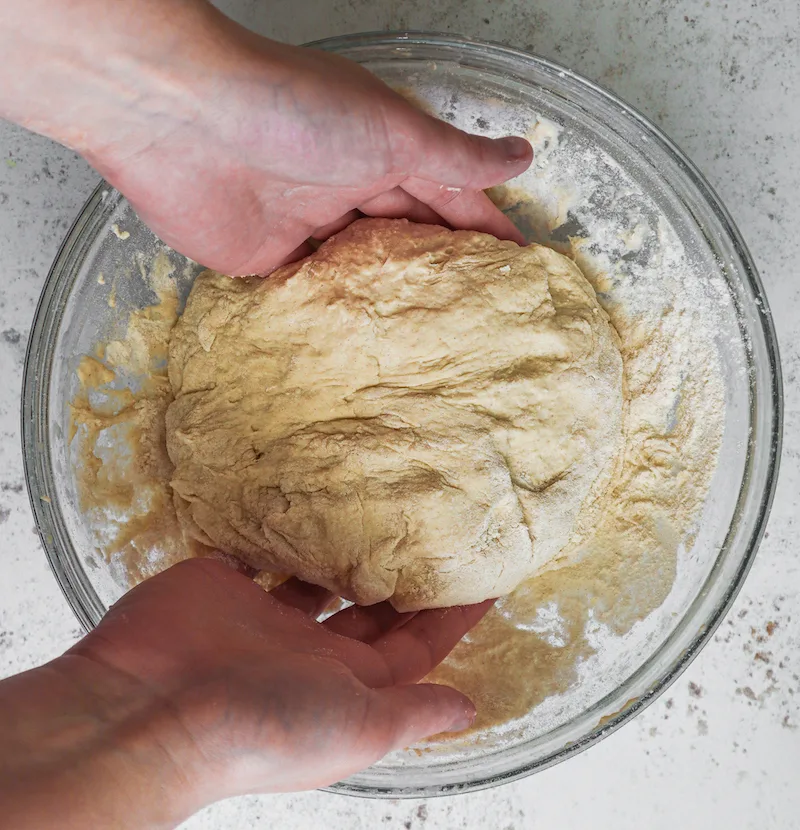 Some common questions about making msemmen
Can I make vegan msemmen?
Absolutely. To make this vegan, substitute the butter for additional oil or use vegan butter. You could also consider using coconut oil if you want a little different flavor.
Can I make this msemmen gluten free?
I have tried for nearly 10 years to make a gluten-free version of these. Normally you can substitute one to one gluten free flour to make things. It doesn't work here. Part of what makes msemmen is the pulling and folding of the bread. This creates the layers. Gluten is the protein in regular flour that makes this possible. Without it, you can't replicate the same effect.
Can I freeze msemmen?
Yes! This bread lends very well to being frozen and reheated. Let the bread completely cool then stack with a piece of parchment between each one. It can be stored in a freezer bag or in a freezer container. To reheat simply remove and allow to thaw OR you can directly place into a skillet or toaster oven to reheat.
How many calories are in msemmen?
Who knows! If you are someone that is counting calories this probably isn't the recipe for you. The calories are going to vary depending on the oil/butter ratio you use. The size of your msemmen and additional oil used in cooking them.
Step by Step Msemmen Folding Instructions
Because these can be a little tricky to fold I have done a series of step-by-step photos to show you the process. You will also see in the video above the folding process to make these. Remember the dough should be as thin as you can make it! This is also a recipe that improves the more you make it. You'll learn how to manipulate the dough the more often you make this.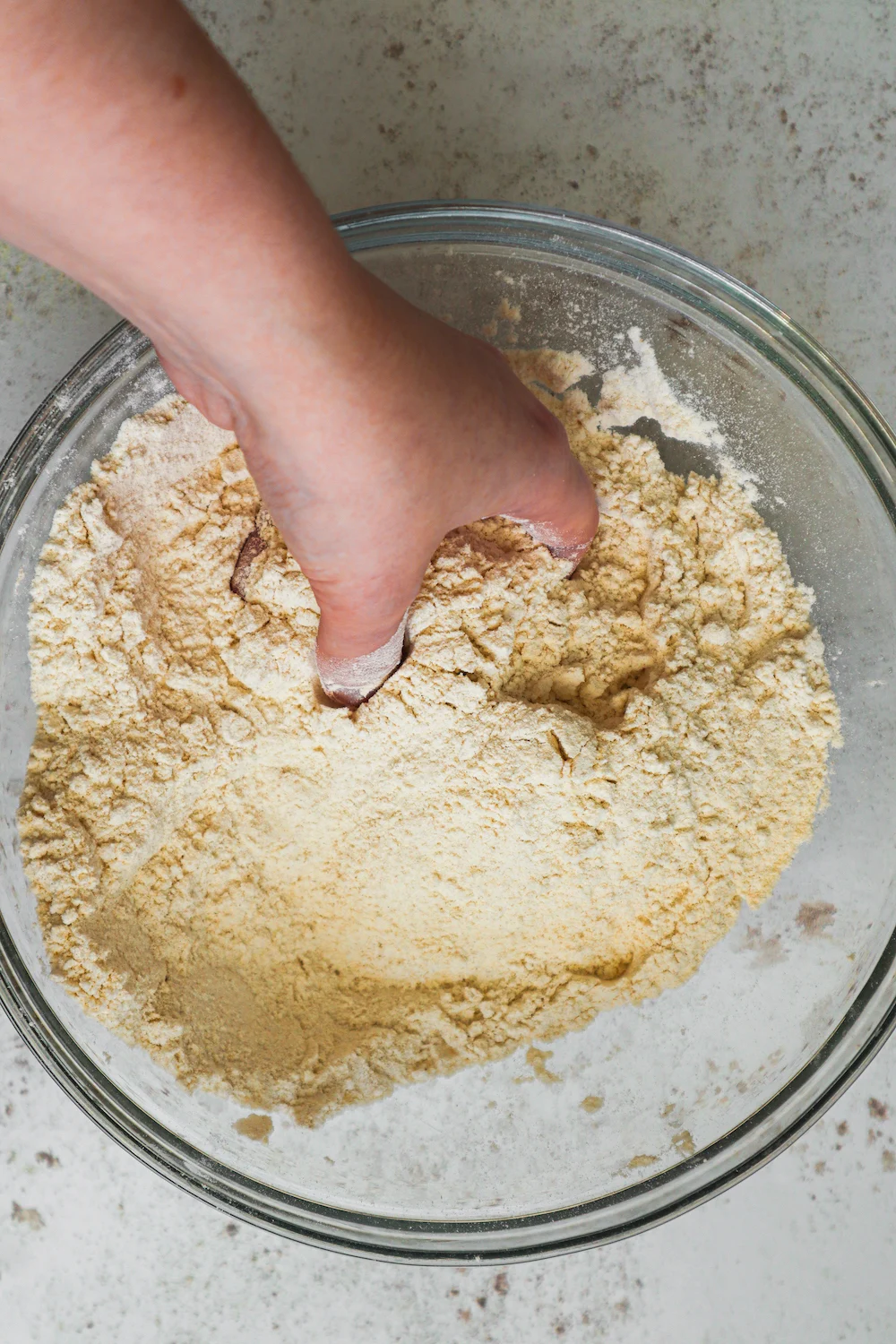 Mix and combine the flours for the msemmen in a large bowl.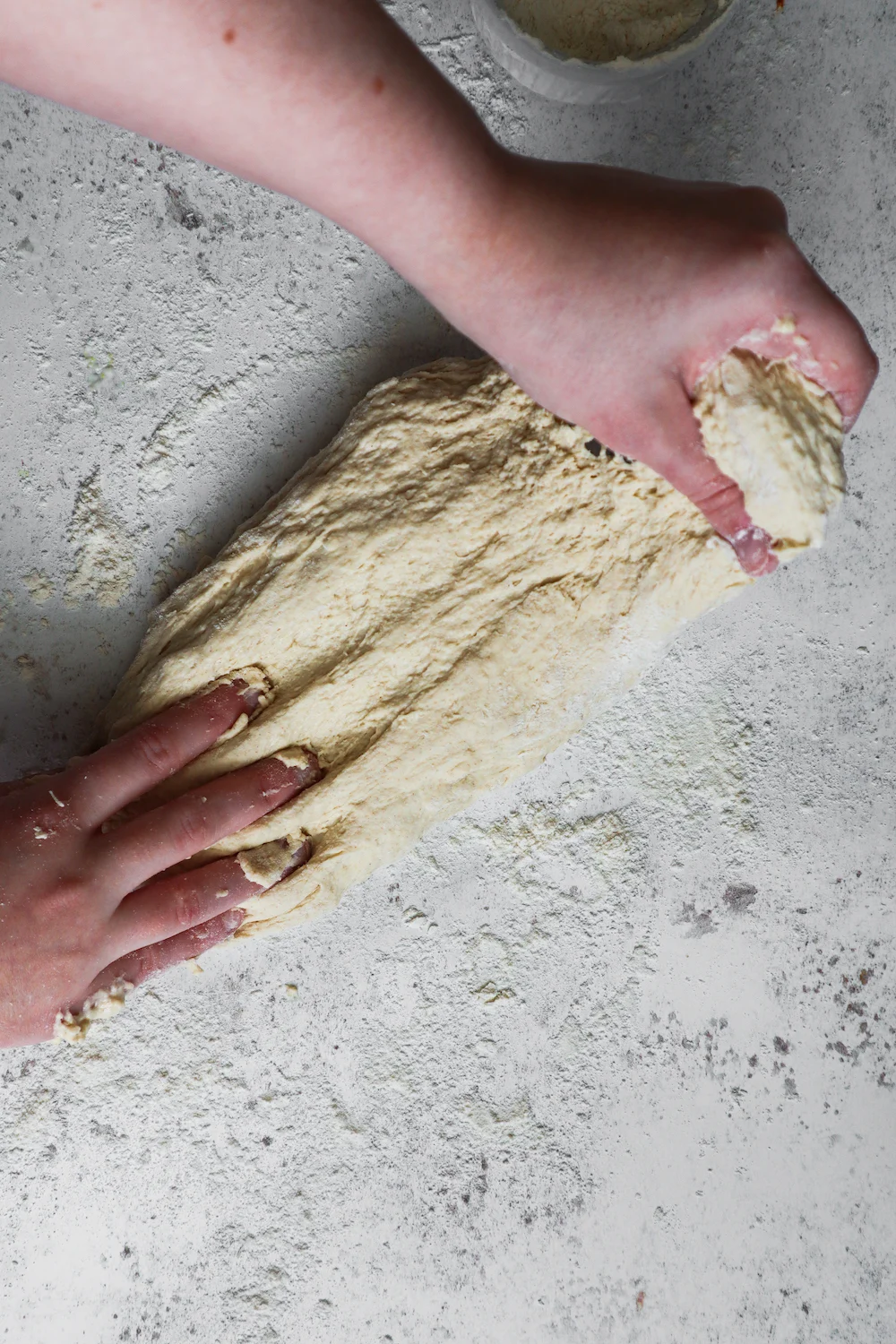 Take time to knead the dough until it gets a good elasticity and bounces back when touched.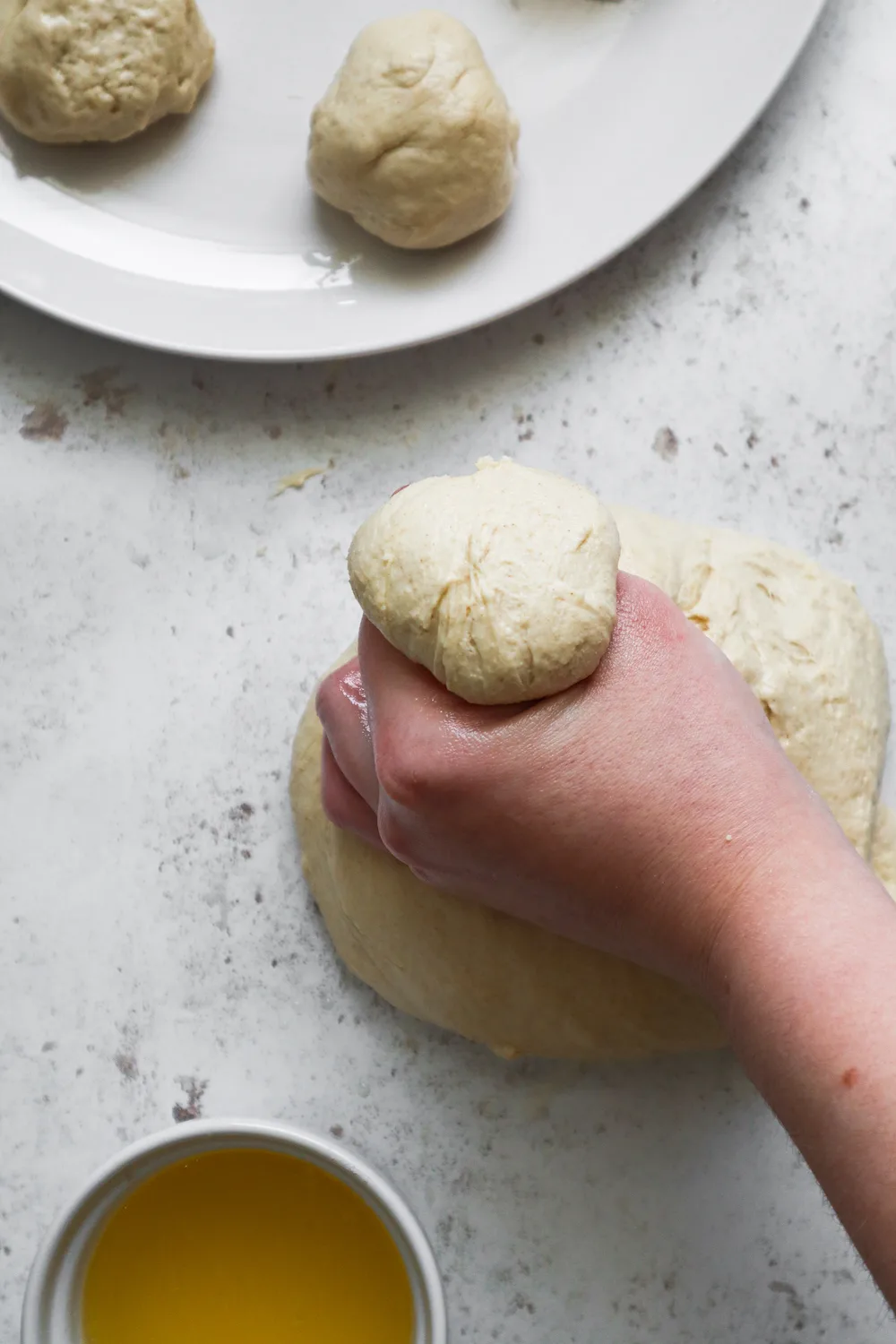 From the rested dough, section of dough in equal size pieces.
Flatten these dough balls as thin as you possibly can.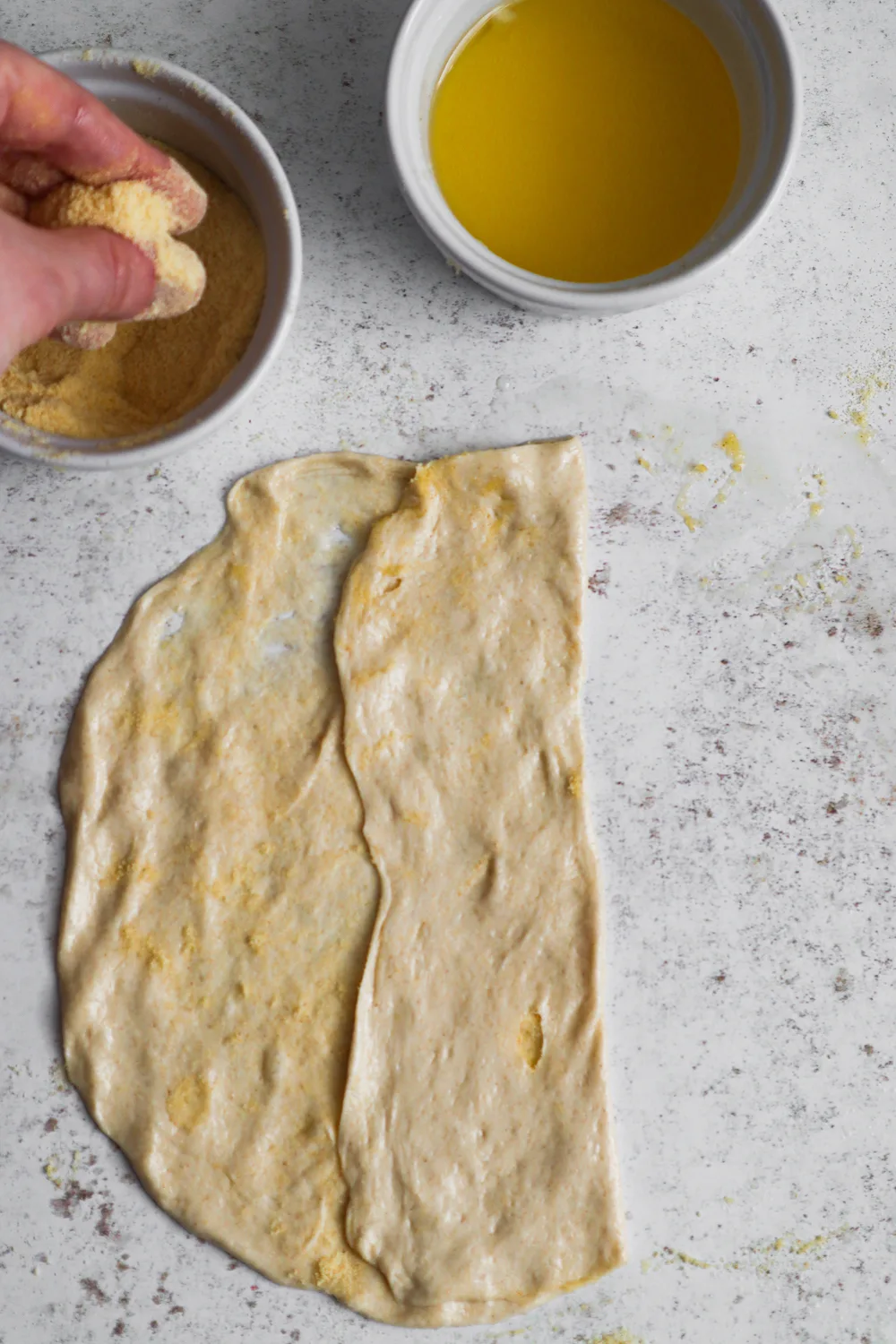 Spread oil and butter over the top of the flattened piece and sprinkle with semolina flour. Fold one side over.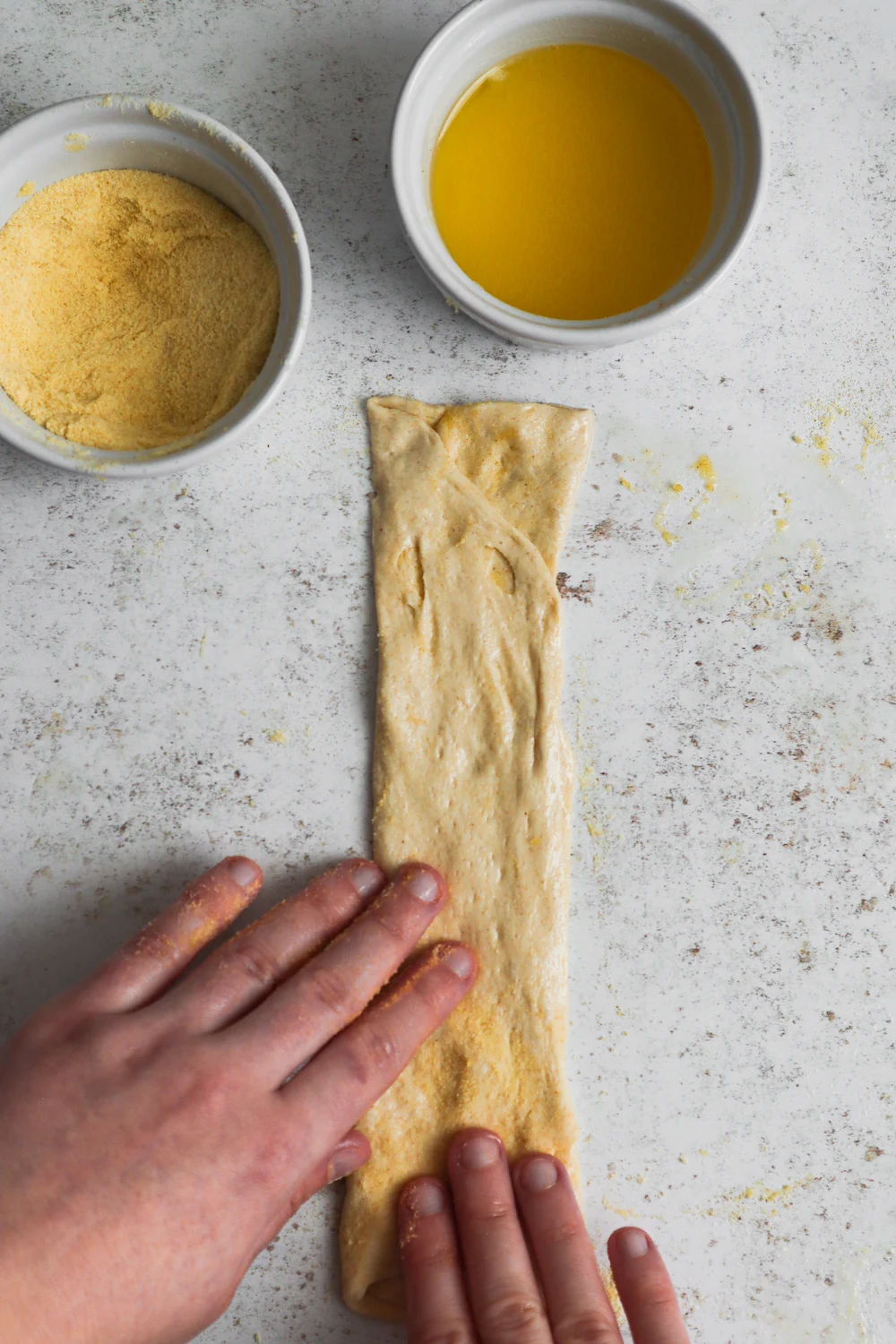 Fold the other side over to create a strip of dough.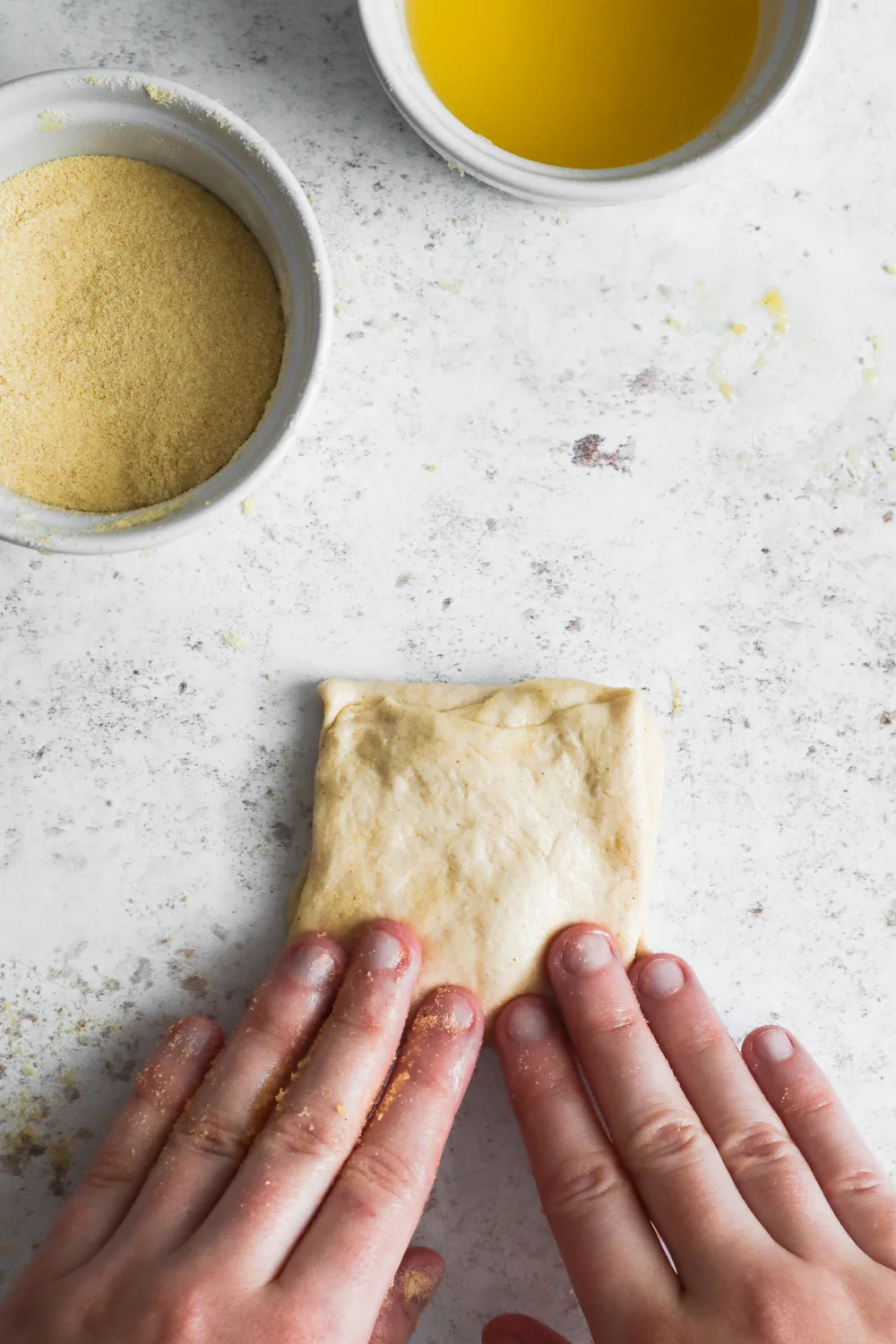 Fold the strip of dough into thirds to create a dough packet.
The visual image of what the final folded packet looks like. Allow resting 10-15 minutes.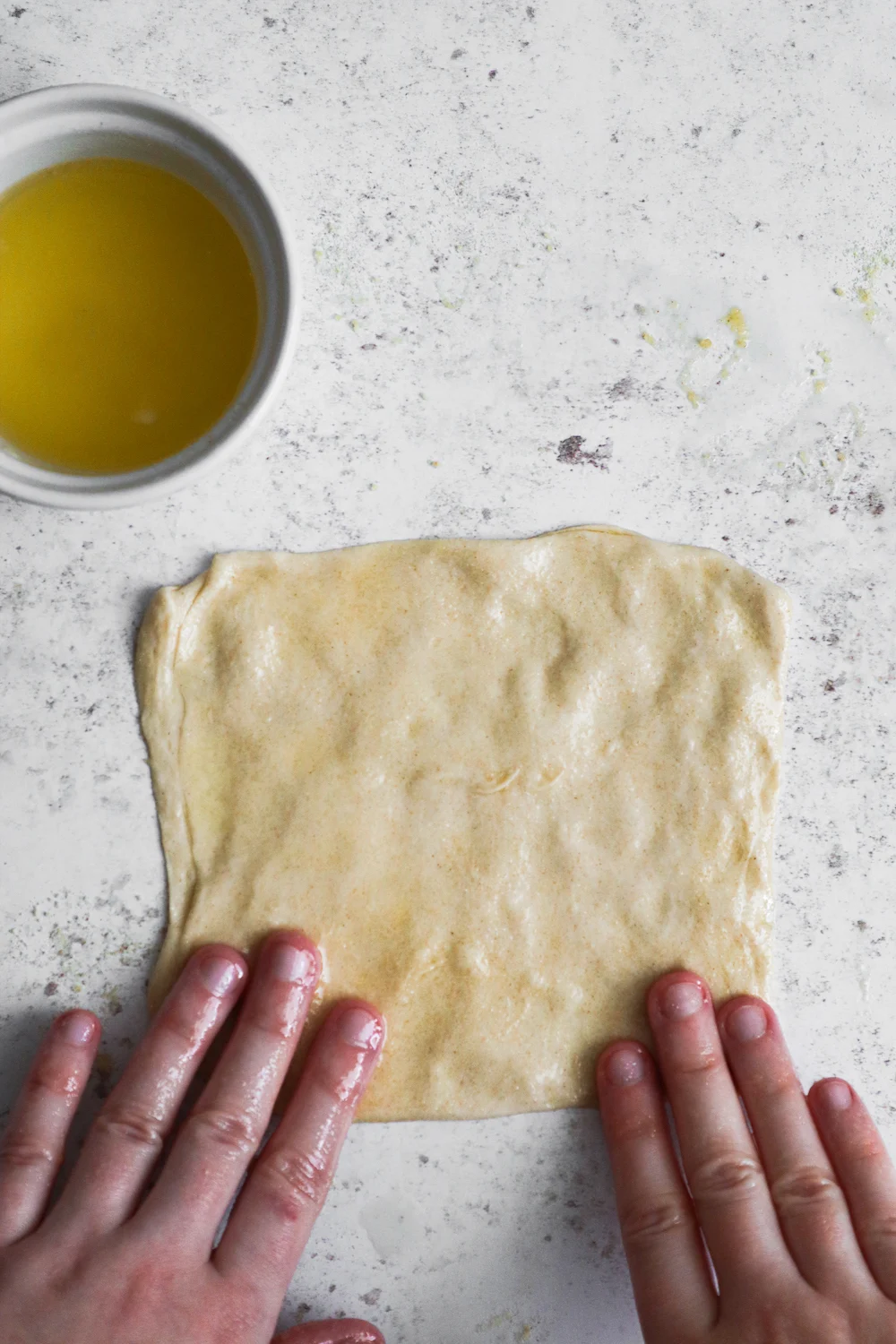 After resting, flatten the packet into a square.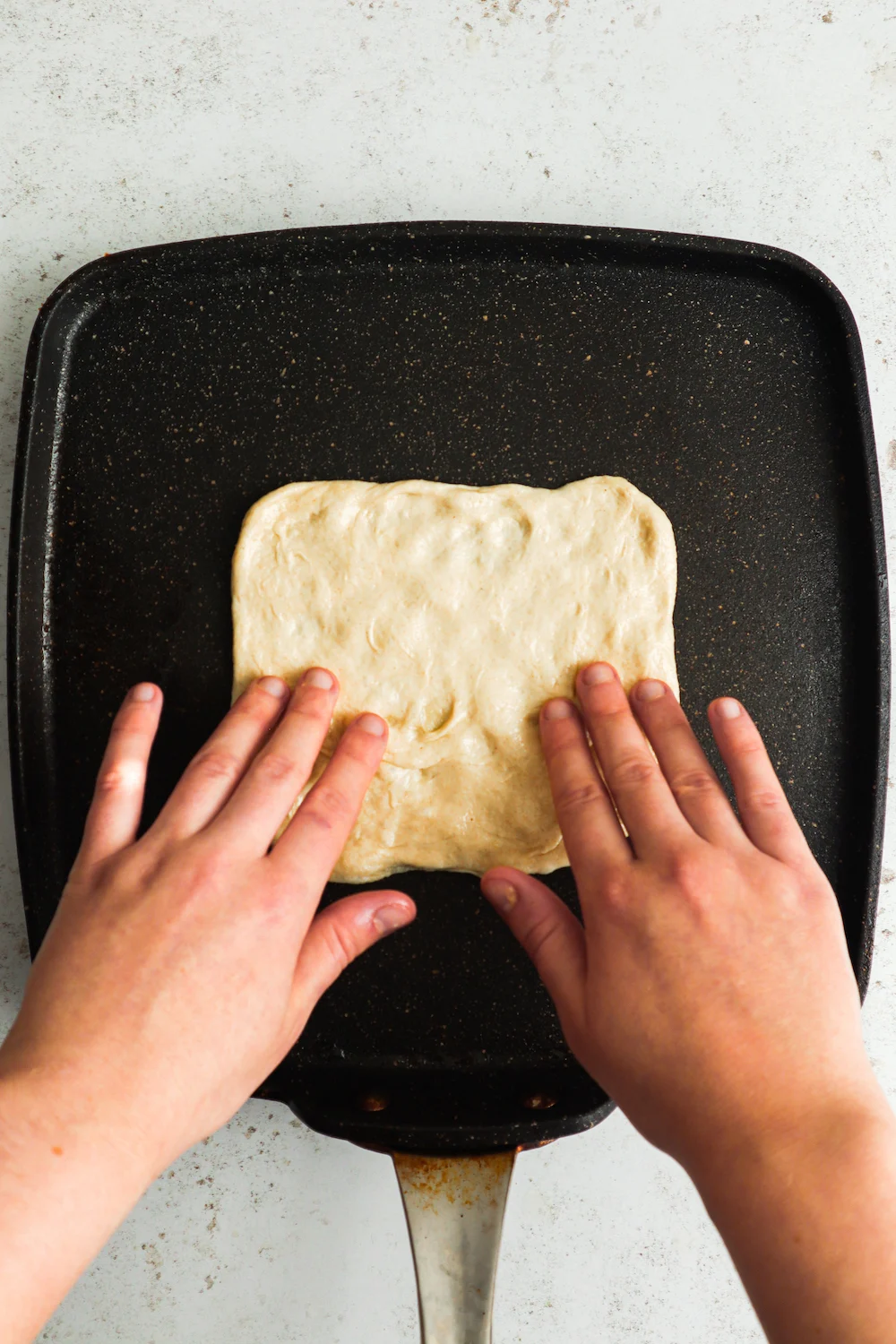 Sprinkle a little more oil over the dough and place onto a preheated skillet and cook.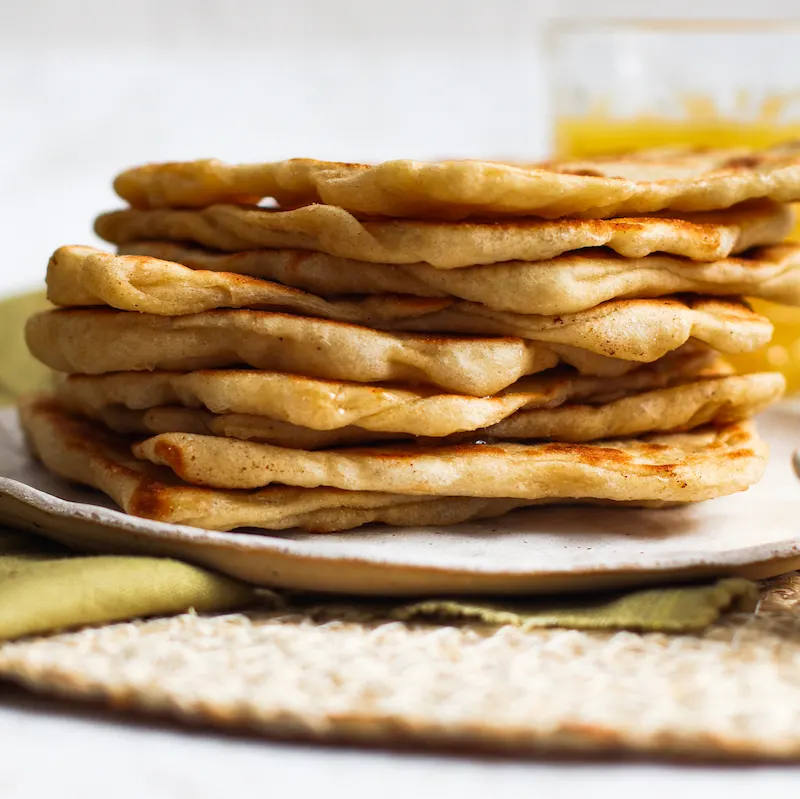 YIELD:10-12 PIECES OF BREAD
Moroccan Msemmen
total time:
1 HOUR
15 MINUTES
Msemmen is typically made for breakfast or afternoon snack time. It is a laminated bread that can be eaten savory or sweet.
Bread Ingredients
3½ cups flour (340 g)
½ cup fine semolina (90g)
2 tsp sugar
2 tsp salt
1 teaspoon yeast
1½ cups warm water (approx. ⅓ liter)
Ingredients for Folding Bread
1½ cups vegetable oil
1/2 cup fine semolina
¼ cup very soft unsalted butter
Mix all the dry ingredients in a large bowl.
Add 1½ cups of warm water, and mix to form a dough. Add more water if necessary to make a dough that is soft and easy to knead, but not sticky.
If the dough is too sticky to handle, add a little flour one tablespoon at a time.
Transfer the dough to a lightly floured work surface and knead by hand for 10 minutes, (or knead the dough in a stand mixer with a dough hook for 5 minutes), until the dough is very smooth and elastic.
Set a bowl of the melted/soft butter and some oil aside. Cover your hands with oil. Begin by dividing the dough into golf ball size balls.
Continue until all the dough is divided.
Starting with the first ball you made, add more of the butter mixture to your hands and work surface. Flatten the ball to a very, very thin layer.
Rub some oil on top, and fold into thirds.
Add some more oil and sprinkle some semolina on the strip and fold again into thirds.
You should now have a small square of dough. Continue through the remaining balls.
Heat up a skillet and add a small amount of oil to the pan. Keep it on medium heat. Starting with the first "package" that you assembled, oil your hands and begin flattening the dough. It should be thin and remain in a square shape. Do not overwork or the layers meld together.
Place into the warm skillet and cook until golden brown and slightly crunchy on the outside. If it does not turn to a golden color, you are not using enough oil.