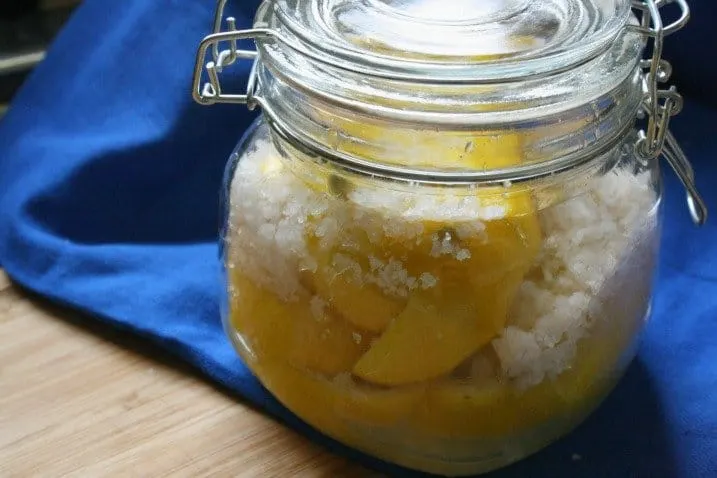 I can't believe I've never shared a how-to post for preserved lemons.  These are THE ingredient that makes Moroccan cuisine what it is.  A Moroccan pantry simply cannot exist without a jar of preserved lemons.
Most often they are used in tajines though you will also find them in salads and fish dishes. The reason I've never shared a recipe is pretty simple.  I've never had to make the lemons.
We usually get a giant jar from my mother-in-law when we're returning from Morocco and they last me until our next trip.  I know that not everyone is this fortunate so today I'm sharing a very easy way to make preserved lemons.  The hardest part might be the few weeks you have to wait to use them!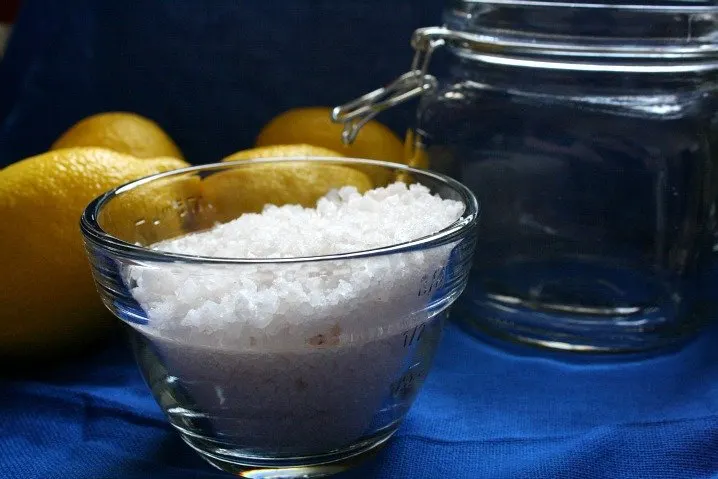 Really those are all of the ingredients.  Lemons, salt, and a tight-sealing glass container.  I recommend using organic lemons and sea salt but you can really use any lemon and any salt – even table salt.  You will want to really scrub the lemons well and dry them off.  Be sure to also clean out the glass jar with hot, soapy water and dry completely before adding the lemons and salt.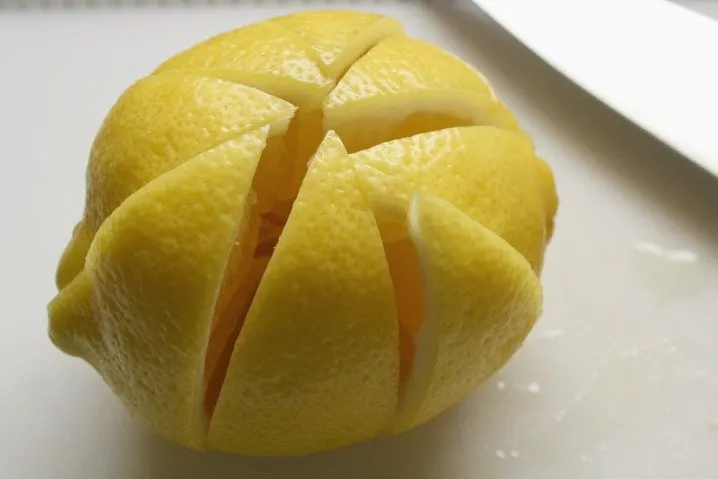 After you've gathered your ingredients begin by cutting a lemon.  You will want to cut through the skin but DO NOT cut all the way through.  Cut in half the other way, again taking care not to cut through the lemon.
You can leave it in 1/4 slices or you can cut diagonally to create 8 segments.  I can not stress enough that the lemon should remain whole, just cut down to one side.  Squeeze some of the juice into the jar and fill the lemon with as much salt as possible.
Place the lemon into the jar and add more salt if it falls out.  Continue this process until the jar is packed tight with lemons.  You can cut and segment a few lemons if you need to to make a tight seal.
Close the container and place it in a cool, dark location.  After a few days check the lemons and add another if the others have begun to break down.  Avoid opening the container too much.
It is very important to limit air exposure to lemons.  Even after they are ready to use, keep the container closed as much as possible.
When you're ready to use the lemons remove a piece from the jar.  You can remove the membrane and rinse off the rind to reduce the salt, however in most recipes you don't need to.  Most often I toss in 1/8 or 1/4 of lemon straight out of the jar.
As the lemons break down they will create a liquid, almost like a syrup.  This is great to use in marinades or for added punch in a salad dressing.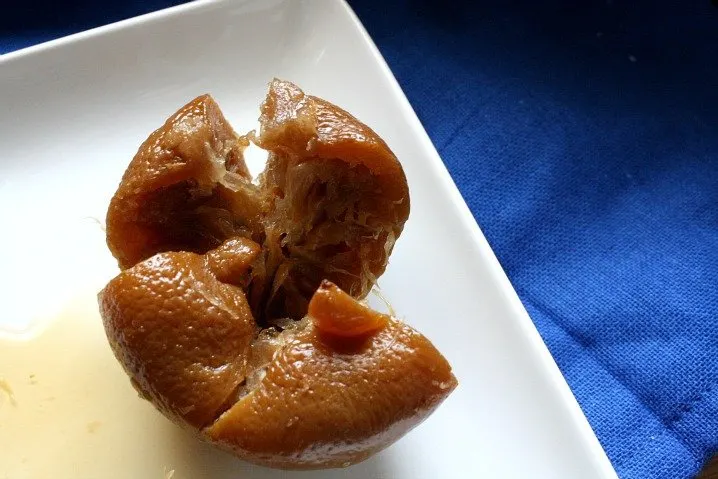 Once the lemons have been in the jar for 3-4 weeks they should look like this picture.  The rinds will be soft and pliable, the color tinged brown.  If you taste the liquid or the lemon that has been produced you will see it's a mix of sweet and salty.  Lemons will keep for many months, again in a cool dark place, so only make as many as you think you'll use in that time!