Moroccans LOVE mint tea. There is always a pot on whether it's a cold winter day or a scorching hot summer day. For me, hot tea is not something I can enjoy when it's warm outside. I've tried but it's just not happening.
Moroccan drinks don't really include anything iced, which surprised me because iced tea seems like it would be very popular! However, there is also an aversion to ice and cold drinks so maybe I shouldn't have been as surprised.
I've made it my mission to convert the family to drinking iced tea in summer starting with this recipe!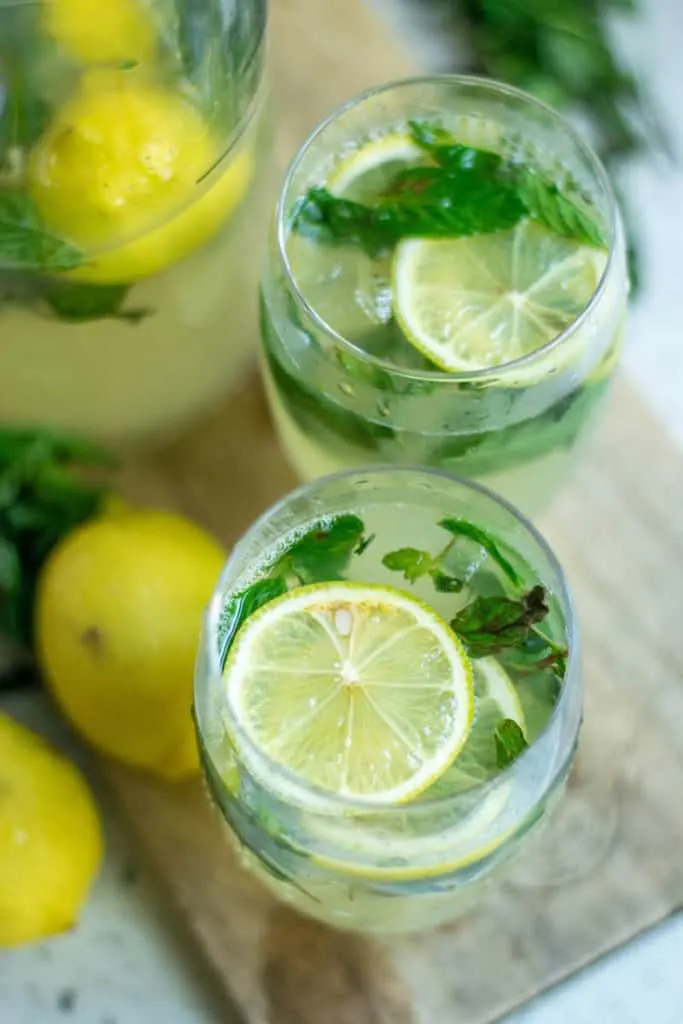 Do you need to use mint in this recipe?
No, you don't. You could omit it and just have a lemon iced tea. I like the mint because it reminds me of Moroccan mint tea. I also think that really fresh. flavorful mint will make a huge difference. If you want to release the mint flavors a little more you can roll the leaves gently in your palms before adding to the glass.
Can you use different types of tea?
Yes! Any kind of tea will work but if you want the lemon or mint to stand out stick to a green tea or a black tea. You may want to steep stronger teas for less time or the flavor could become overpowering and make the drink a bit bitter.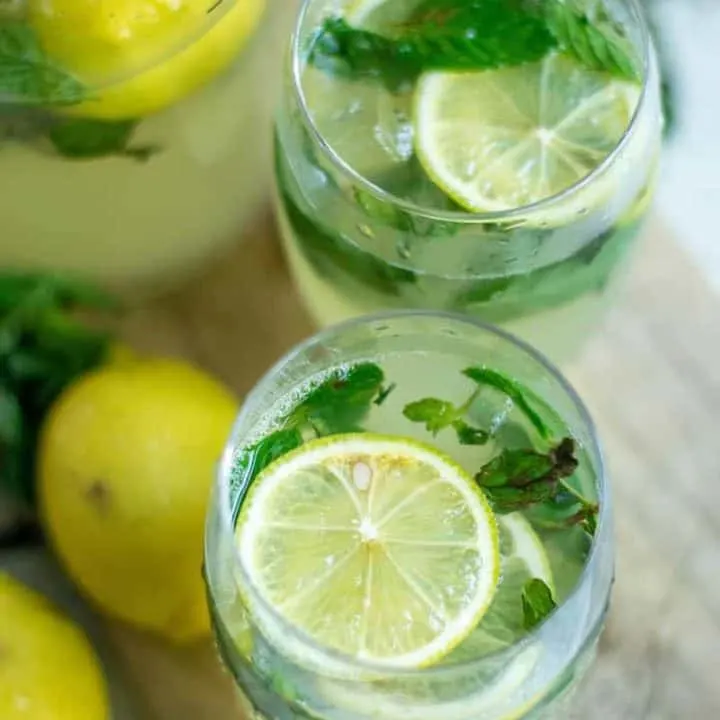 YIELD:6 SERVINGS
Lemon Mint Iced Tea
A simple recipe for an iced lemon mint tea.
Ingredients
3 tea bags
Juice of 8 lemons
2 bunches of mint
2/3 cup sugar cane syrup
2 3/4 – 3 cups cold water
Instructions
Bring 1 cup of water to a boil. Add tea bag then leave let soak for 10 minutes.
In the meantime, roll 6 lemons on a hard surface with your palm. It will help to loosen up the lemons and release more of the juice. Cut the 6 lemons in half.
Put a strainer on a medium bowl then squeeze lemons.
Slice the two additional lemons into rings.
Add the water to a pitcher along with the mint leaves. Pour in the lemon juice, syrup, tea and water. Mix with a spoon.
Refrigerate until chilled. Serve cold with ice.