I love scouring the condiment aisle at any market I find myself in. When traveling it's one of the most interesting aisles to explore.  You can learn so much about people and their food culture.  I never knew mayonnaise was so easy to make!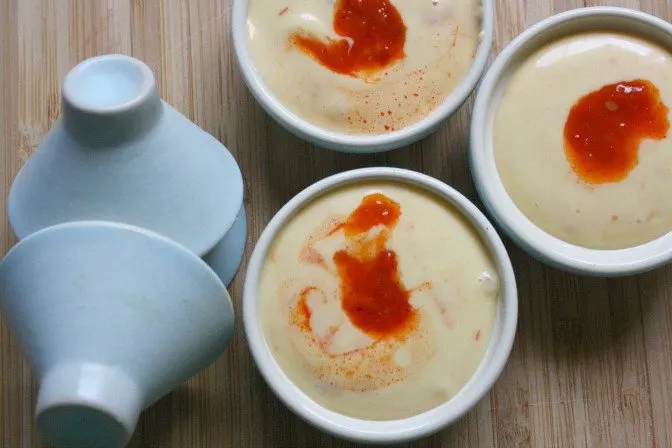 As part of my preparation to move to Morocco, I've been trying my hand at creating things I know may not be easy to find or won't taste the way I expect. Mayonnaise is certainly found in Morocco but why buy it when it's so easy and inexpensive to make? What I learned from this experience was that I can really make something very simple unique and delicious.  I envision many more mayonnaise variations in the future.
If you have a food processor, I think it's really the best and quickest way to make mayonnaise.  If you don't have one, you can use a whisk to pull it together but it will be more tricky.  I would imagine an upright blender would also work just as well as a food processor.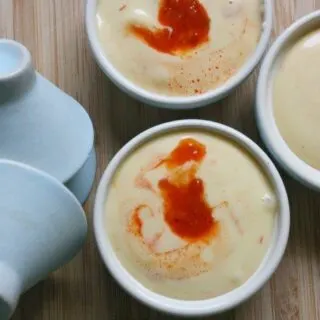 YIELD:APPX 1 CUP
Harissa Mayonnaise
Making your own mayonnaise is not only easy to do but the flavor is even better with a dash of harissa.
1 egg + 1 yolk organic eggs
1 tsp harissa (add more to make it spicier)
1 tsp salt
2 tsp vinegar
1 1/2 cups olive oil
I think it's really important to use fresh, organic eggs. The egg won't be cooked so the best quality you can use is really best.
In the bowl of the food processor, add the eggs, salt, vinegar, and harissa.
Turn the food processor on.
After about 20 seconds, begin to slowly stream the olive oil through the top spout. Do not stop the food processor.
Watch the contents of the bowl and continue to add the oil until the mixture comes together.
As soon as it begins to look like mayonnaise, stop.
Refrigerate immediately, and keep in a cool place for up to a week.
If you decide you would like to increase the heat, you can add more harissa by mixing it into the mayonnaise.