I think one of my very favorite Moroccan foods is beghrir.  They are light airy pancakes that are cooked only on one side and are incredibly versatile.  There is no shortage of Moroccan breads and while these are pancakes I still consider them part of the bread family.
I have toyed with the idea of making them savory instead of sweet something like an accompaniment to moo shu chicken (since we don't do pork).  It hasn't happened yet but it's on the back burner!  For now, I will stick with the sweet version.
Normally you'll find them on the table for afternoon snack time but if you're staying in a hotel or riad, they're commonly served for breakfast. Traditionally it's a butter and honey mixture that's drizzled over the top but I also think they're delicious paired with fruit and chocolate.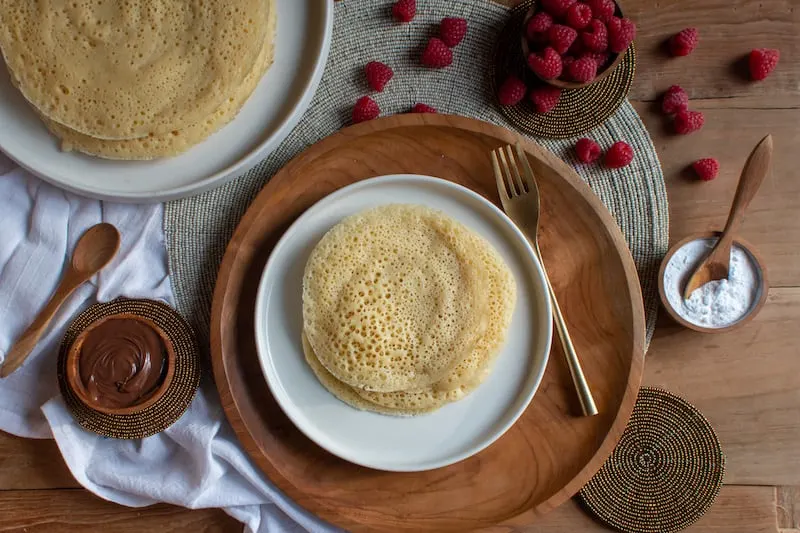 For this beghrir recipe, I combined cultures to create something new. One of the things I miss about living in the Midwest US is the abundance of wild fruit. I remember picking wild fruits as a big part of childhood -not because we had to – but because it was just something we did. I can't tell you how many hours I spent in the woods with my dad and grandpa filling buckets with raspberries, huckleberries, thimbleberries, blackberries, blueberries, and then pears and apples.
Suffice to say when we moved to Morocco I learned many of those berries were hard to come by. It's only been in recent years that I've been able to get raspberries and blueberries regularly. Every now and then blackberries appear and I buy (and eat) as many as I can.
But onto the beghrir. The batter of these can be difficult to get right. You want it to be as smooth as possible. The best results I've had come when using a blender. But if you only have a whisk, slowly incorporate everything and mix, mix, mix to get it smooth.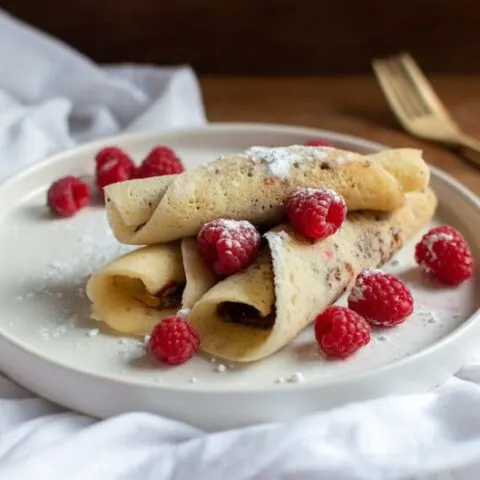 YIELD:4-6 SERVINGS
Moroccan Beghrir
additional time:
30 MINUTES
Known as the pancakes with 1000 holes these are cooked on one side only which is how they get their characteristic look. Pair them with your favorite toppings.
2 cups fine semolina or cornmeal (preferably semolina)
1 cup all-purpose flour
1 tbsp dry yeast
¼ teaspoon baking powder
½ teaspoon salt
½ teaspoon sugar
1 egg
1 cup milk, warm but comfortable to the touch
2 cups water, warm but comfortable to the touch
Mix all of the ingredients together and beat until blended well. You can do this either by beating with a wire whisk or mixing everything in a blender. I like the results of the blender better but use what you have available.
Allow it to rest for 20-30 minutes.
Heat a non-stick skillet on medium heat until hot; I add a little butter on the first batch to make sure the pan is ready.
Cook on one side until the exposed side is full of little bubbles and dry. These pancakes only cook on one side. Remove from the heat once the top looks a bit dry.
Traditionally they are served with honey butter but I spread Nutella on, then rolled them up and served them with some raspberries and a sprinkle of powdered sugar.
Notes
You can make these any size you'd like. Typically they are about the size of a small salad plate.