It took me some time to realize that there are many different kinds of Moroccan bread that are actually made at home. And each one serves a different purpose. Batbout is a Moroccan pita, or an American equivalent of sandwich bread. It's a Moroccan bread often used for a quick lunch (I loved eating it for a Moroccan breakfast with cheese inside.)
This bread is a little different because it's cooked on the stovetop and not in the oven. It's a good choice if you don't have an oven but still want bread – as was the case when we first moved to Morocco.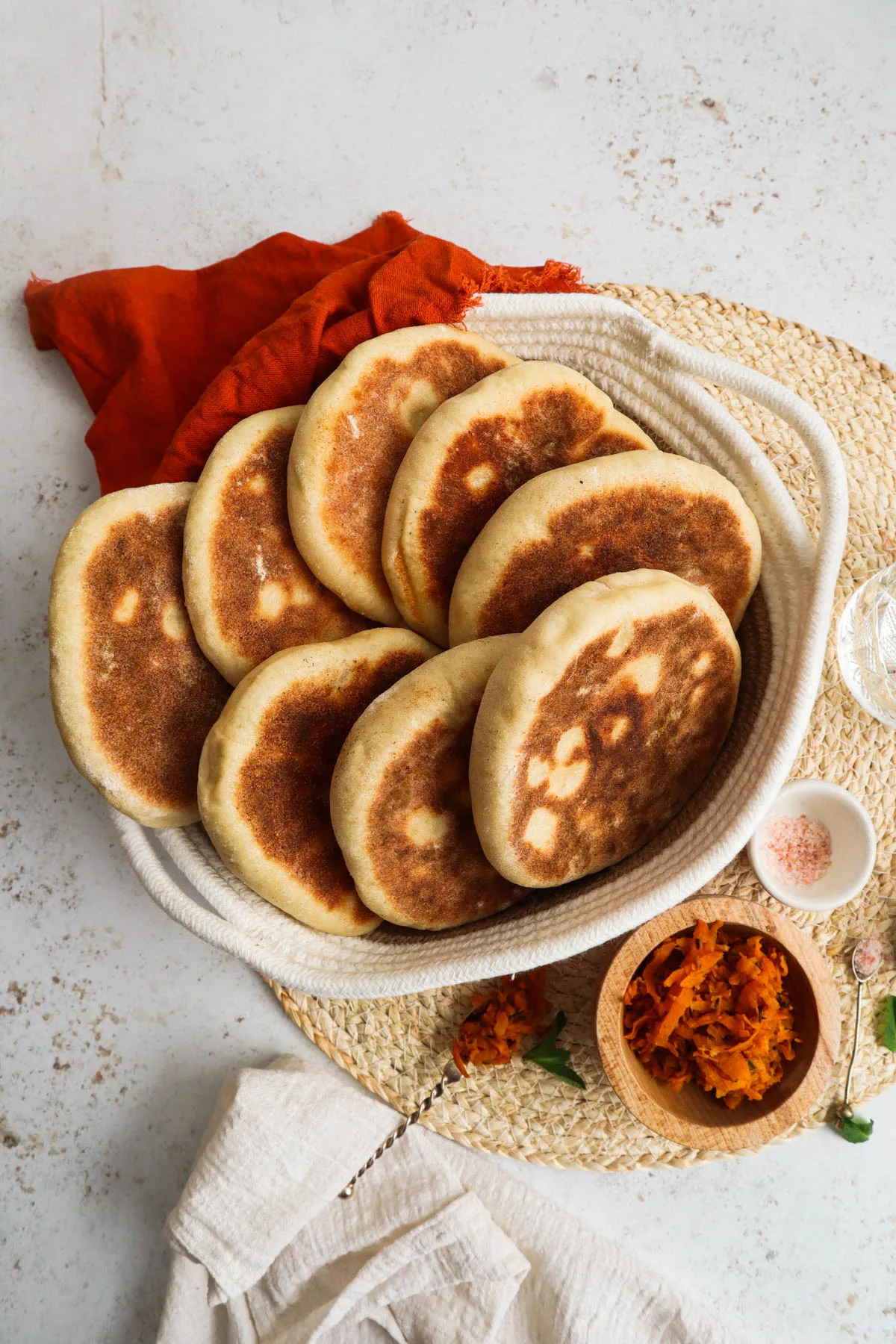 Like many breads this recipe can be a little finicky. One very important thing to remember is you need to let the dough rest once you form it into rounds. Then it needs to be added to a skillet that is already hot. This is what helps create the little pocket.
What Can Batbout Be Used For?
Anything! Really it's a piece of good, all-purpose bread. We use it for breakfast to scoop up eggs but it also just makes a very good sandwich option. When we travel we usually use this kind of bread cut in half and with fillings stuffed inside.
Normally you'll see this served at breakfast but there's no rule about when and what to eat with it. There's also no rule on how big or small to make them. During Ramadan having mini stuffed batbout sandwiches is almost always on the table and I personally love the small size!
Some of my recipes that use or would work well with batbout bread include;
Hout Quari – Grilled Sardine Ball Sandwiches
Bssara – Split Fava Bean Soup
Moroccan Salad Recipes – My favorite meal is this bread eaten with one or several Moroccan salads.
How Do I Store Batbout Bread?
This bread doesn't have any preservatives so it will go bad rather quickly. But if you want to preserve it and have it last a little longer you do have options.
We store extra bread in the refrigerator in a Ziploc bag for a few days and then reheat it before eating.
If you want to make a lot in advance for a dinner party or Ramadan, make it, allow it to cool completely, and then put it in a freezer-safe bag and into your freezer. To reheat just warm it up on the stove or in the oven for a few minutes until it's soft again.
Step by Step Pictures to Make Moroccan Batbout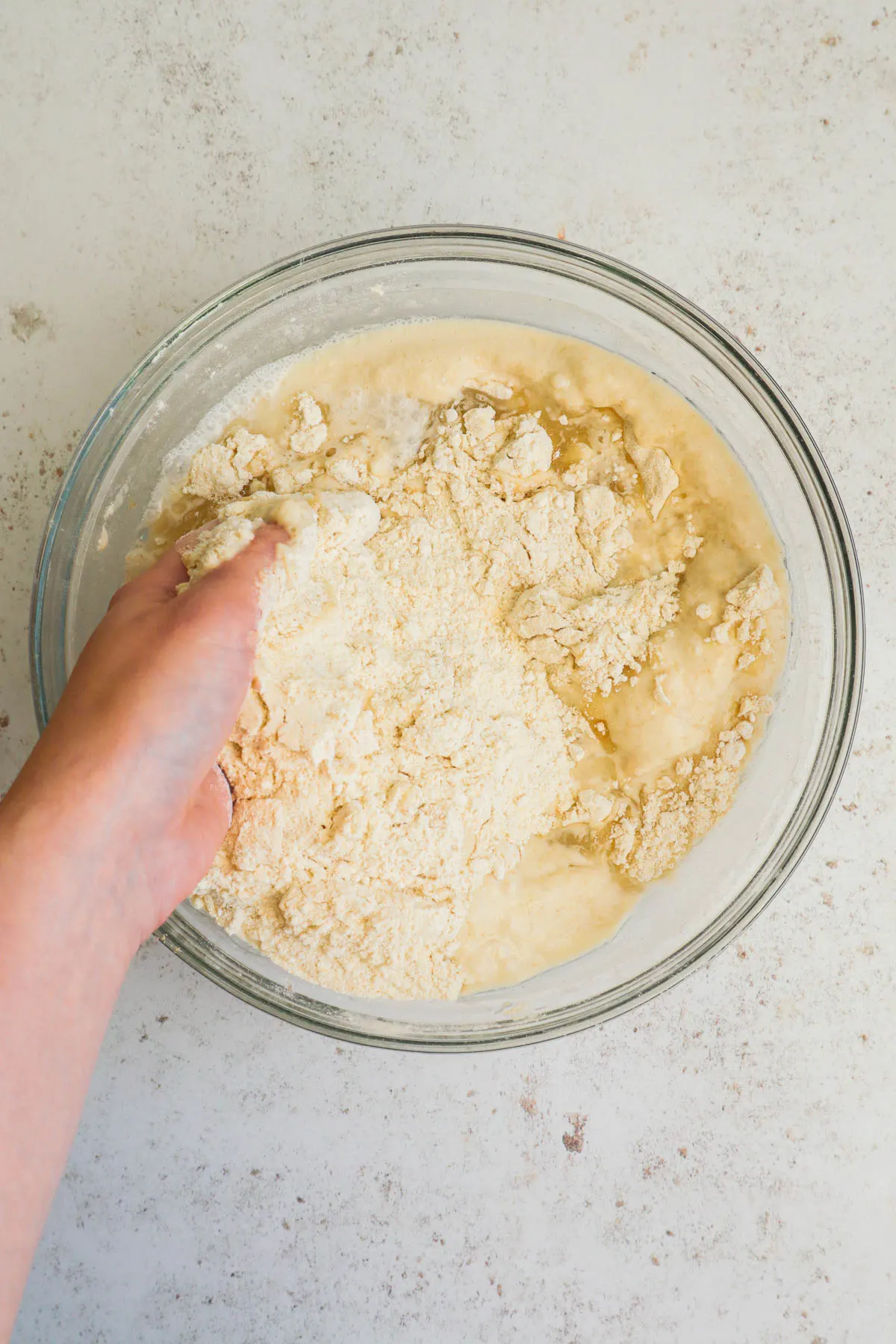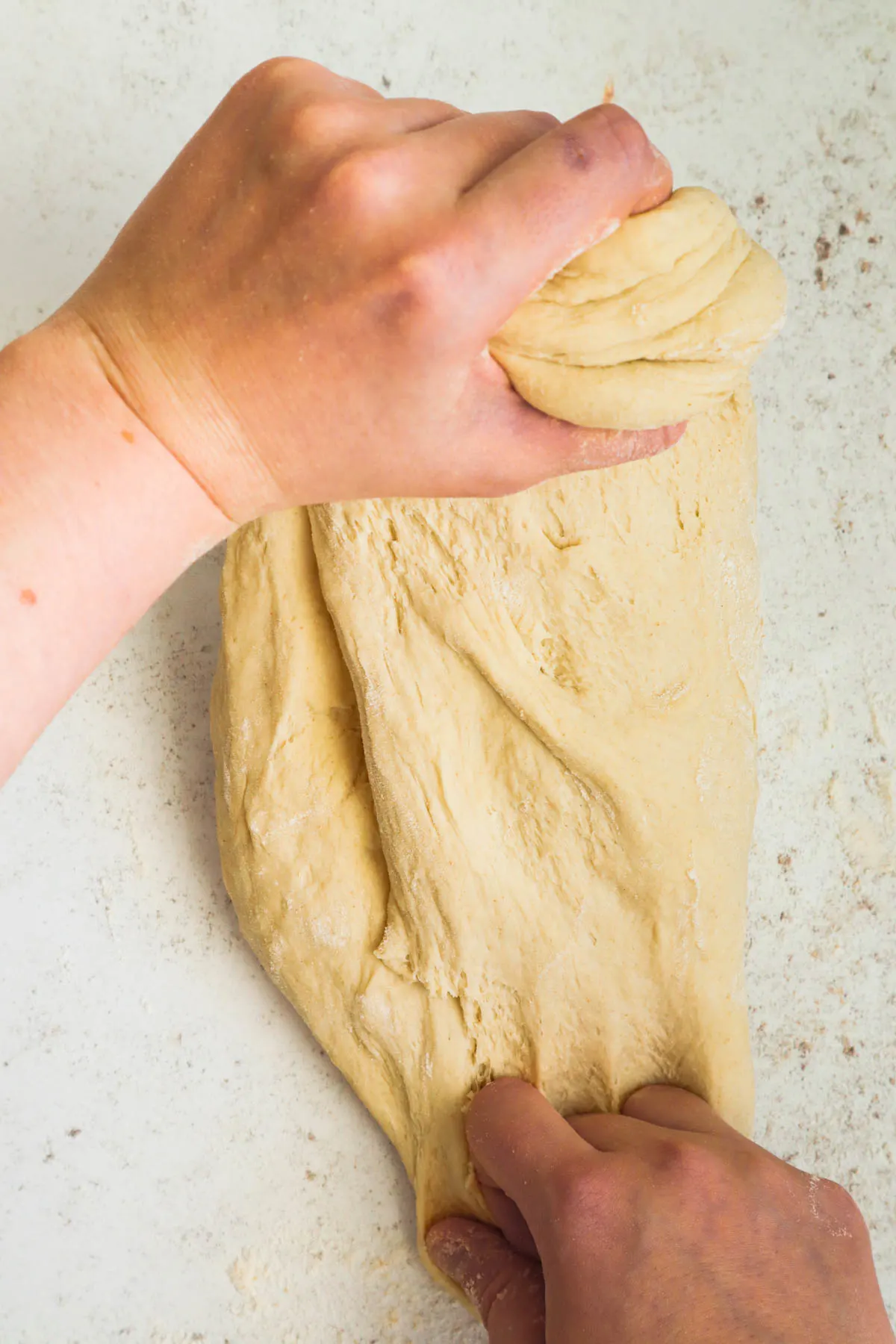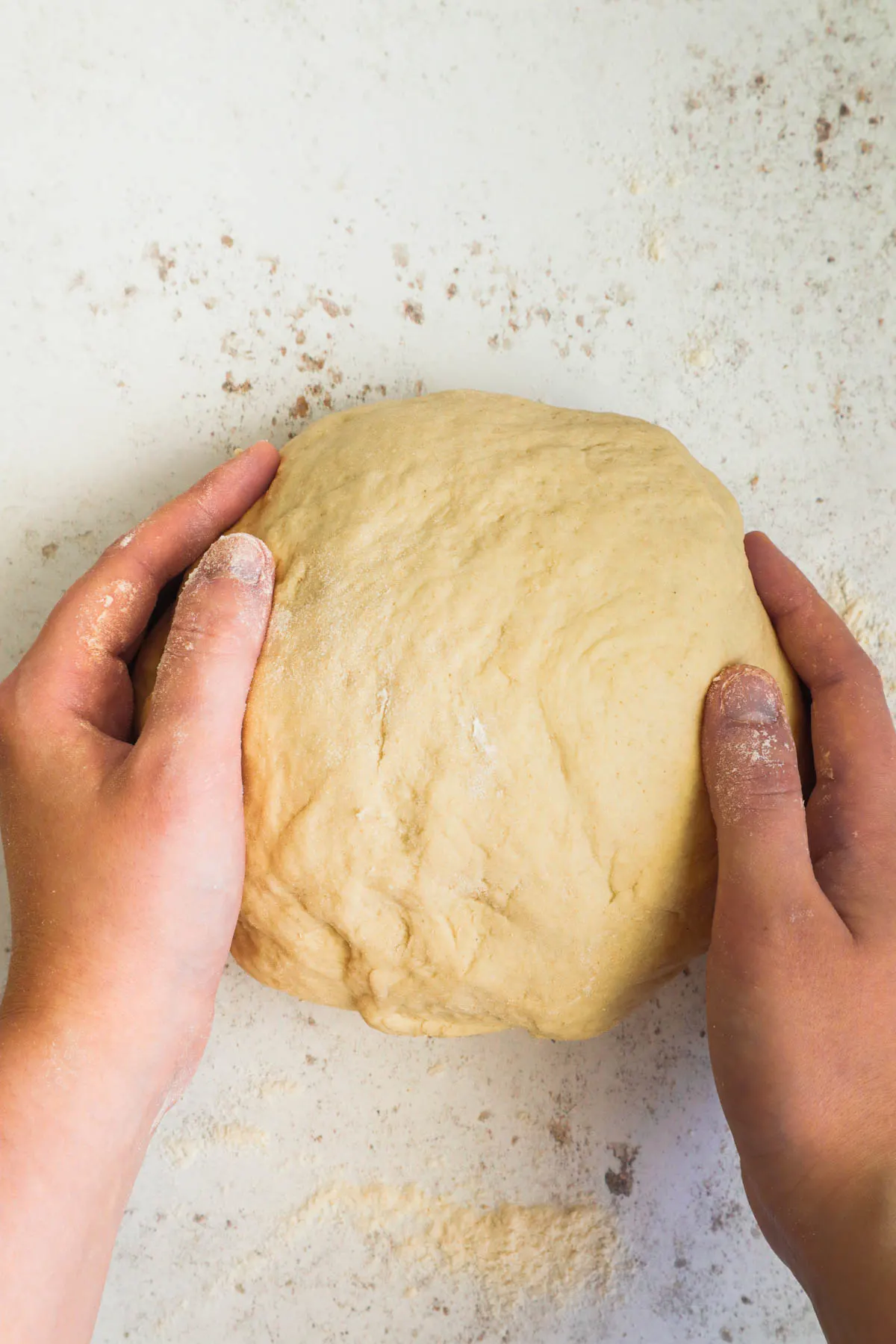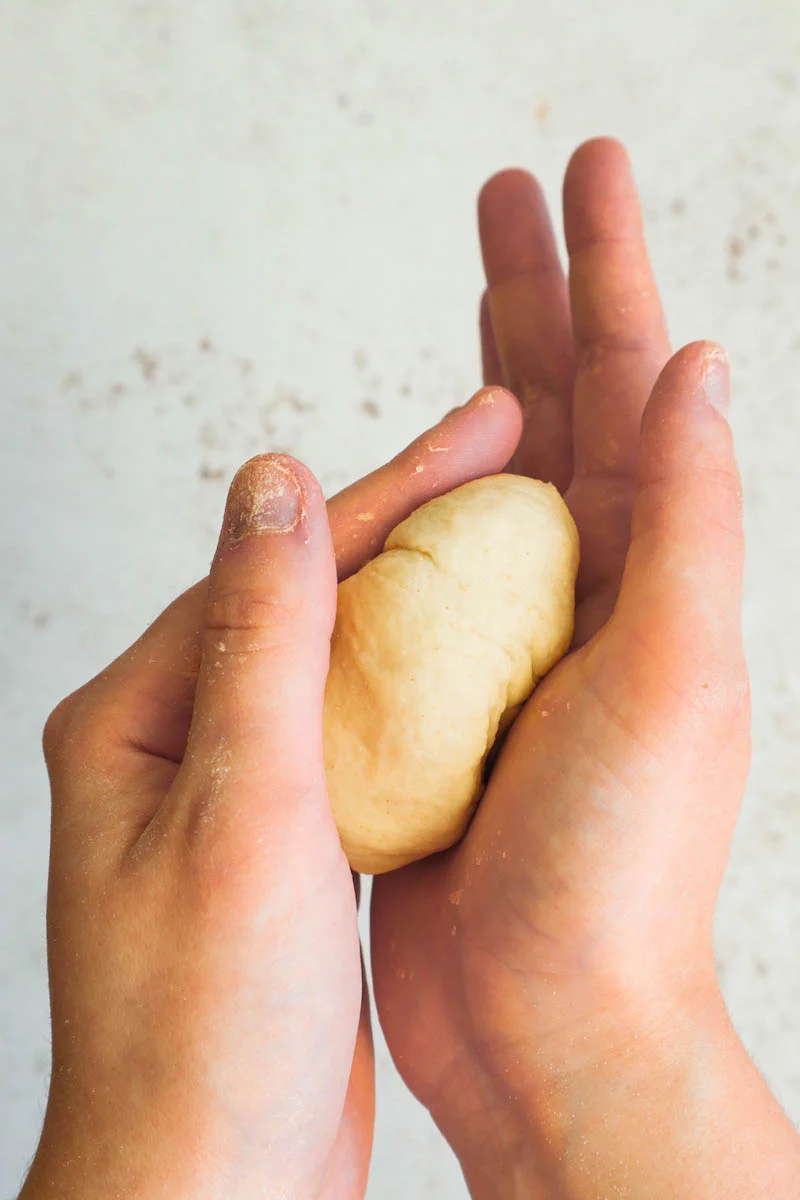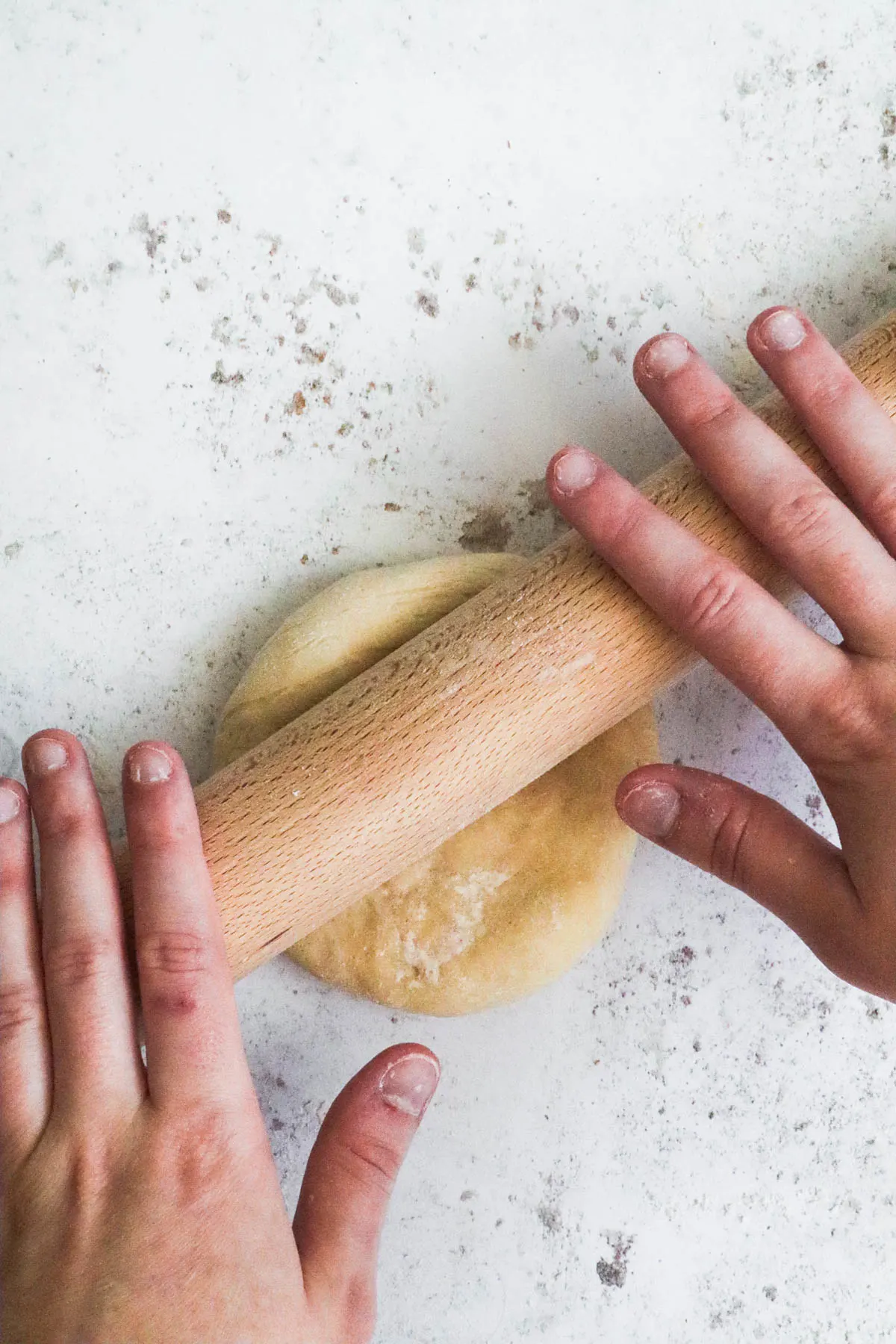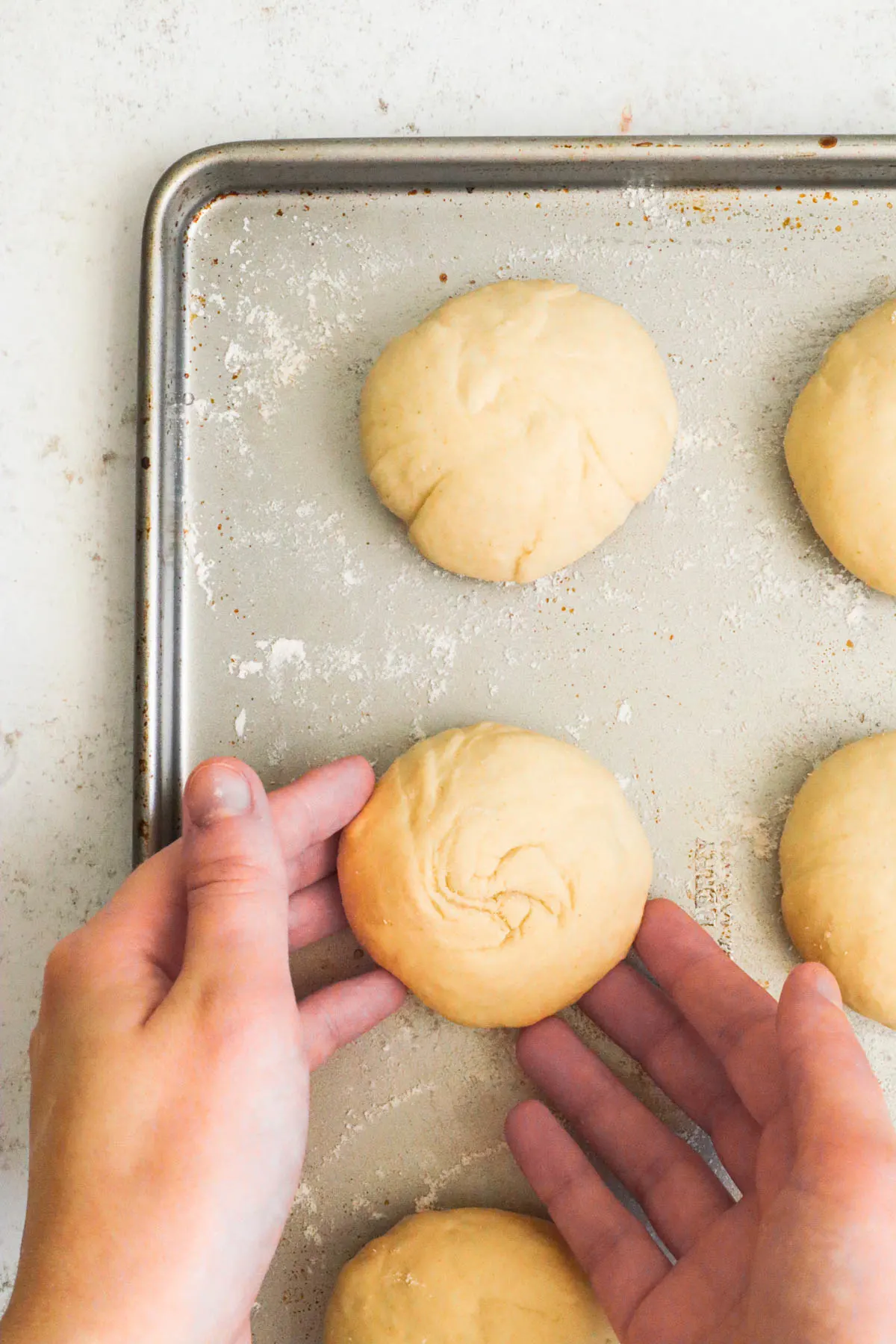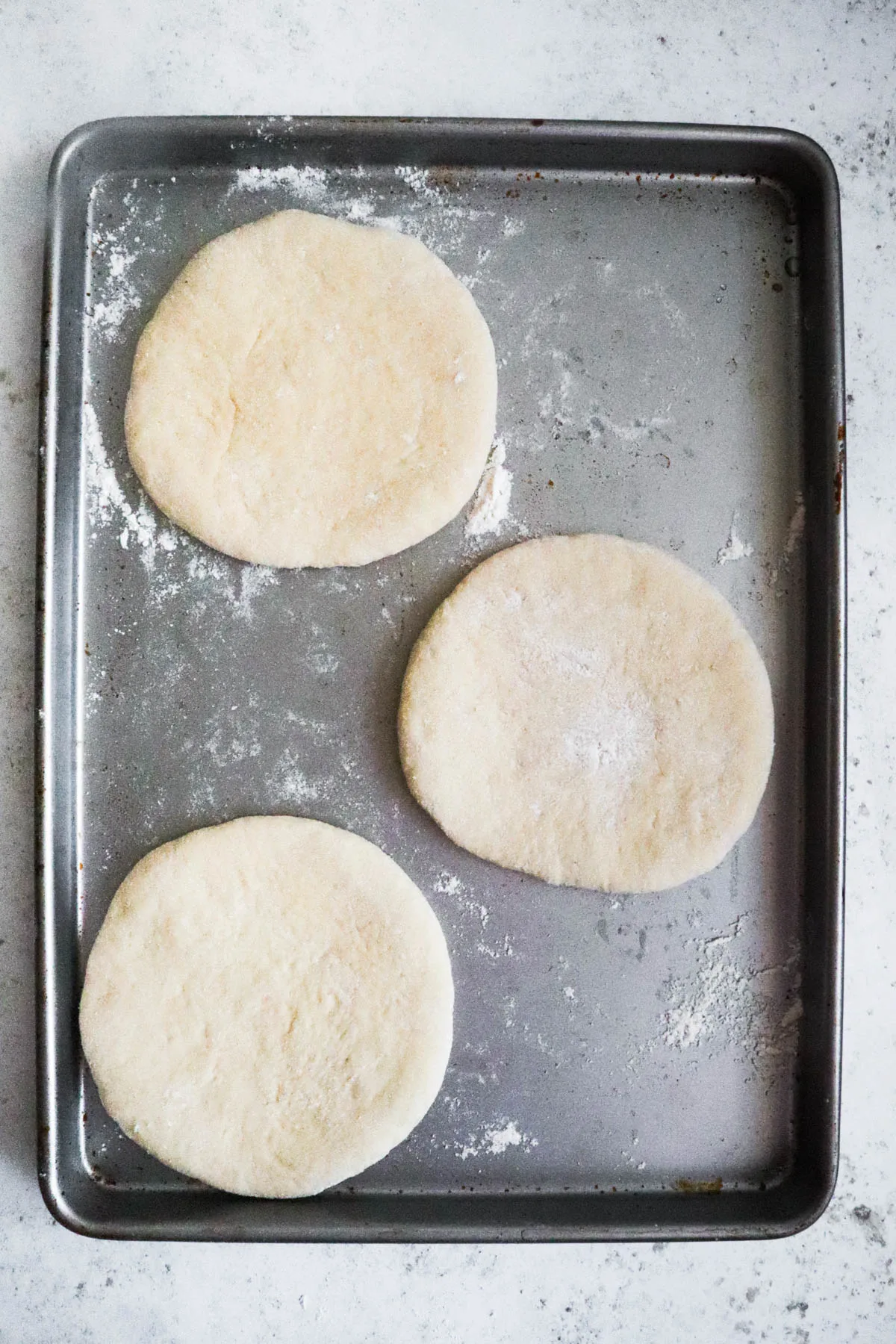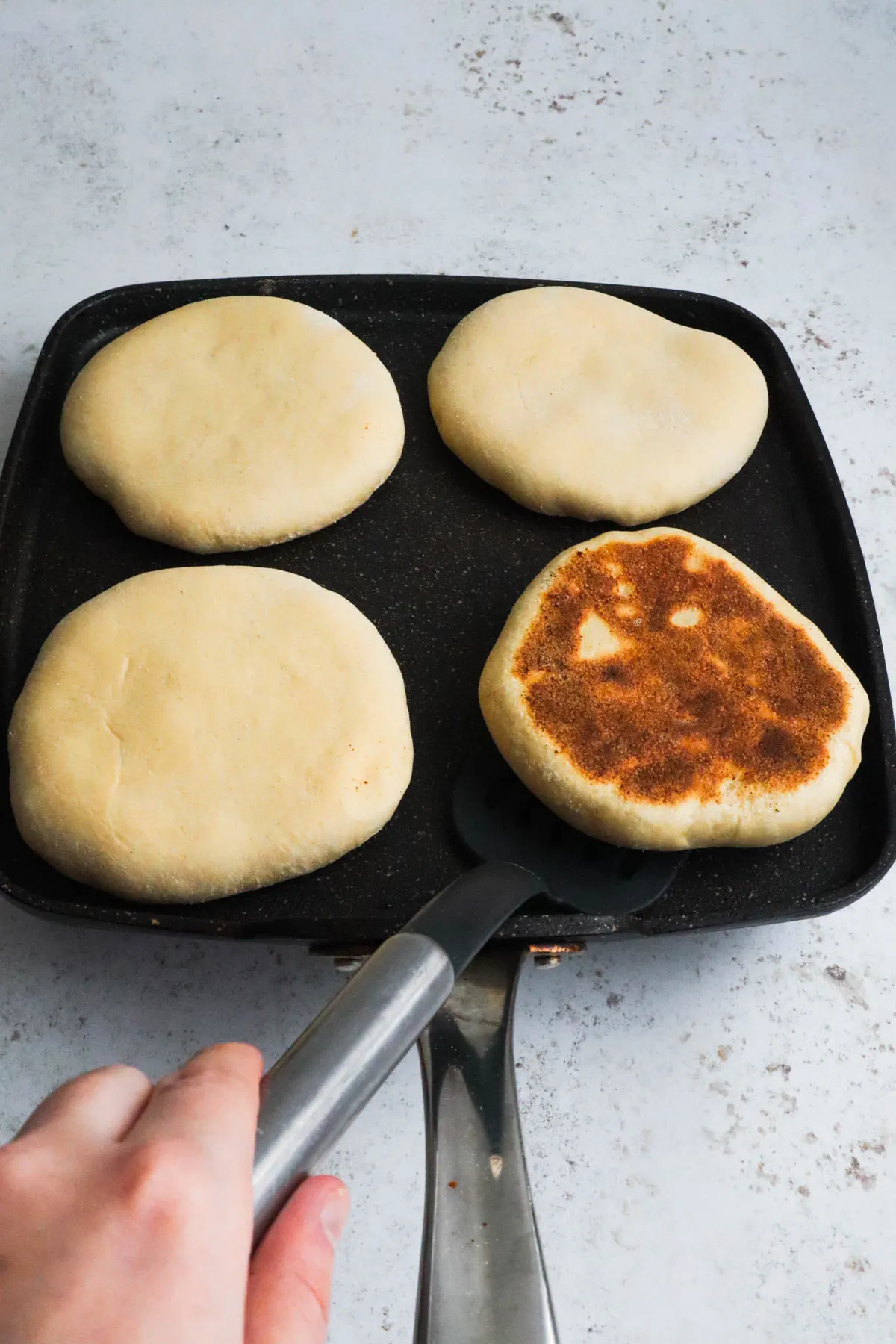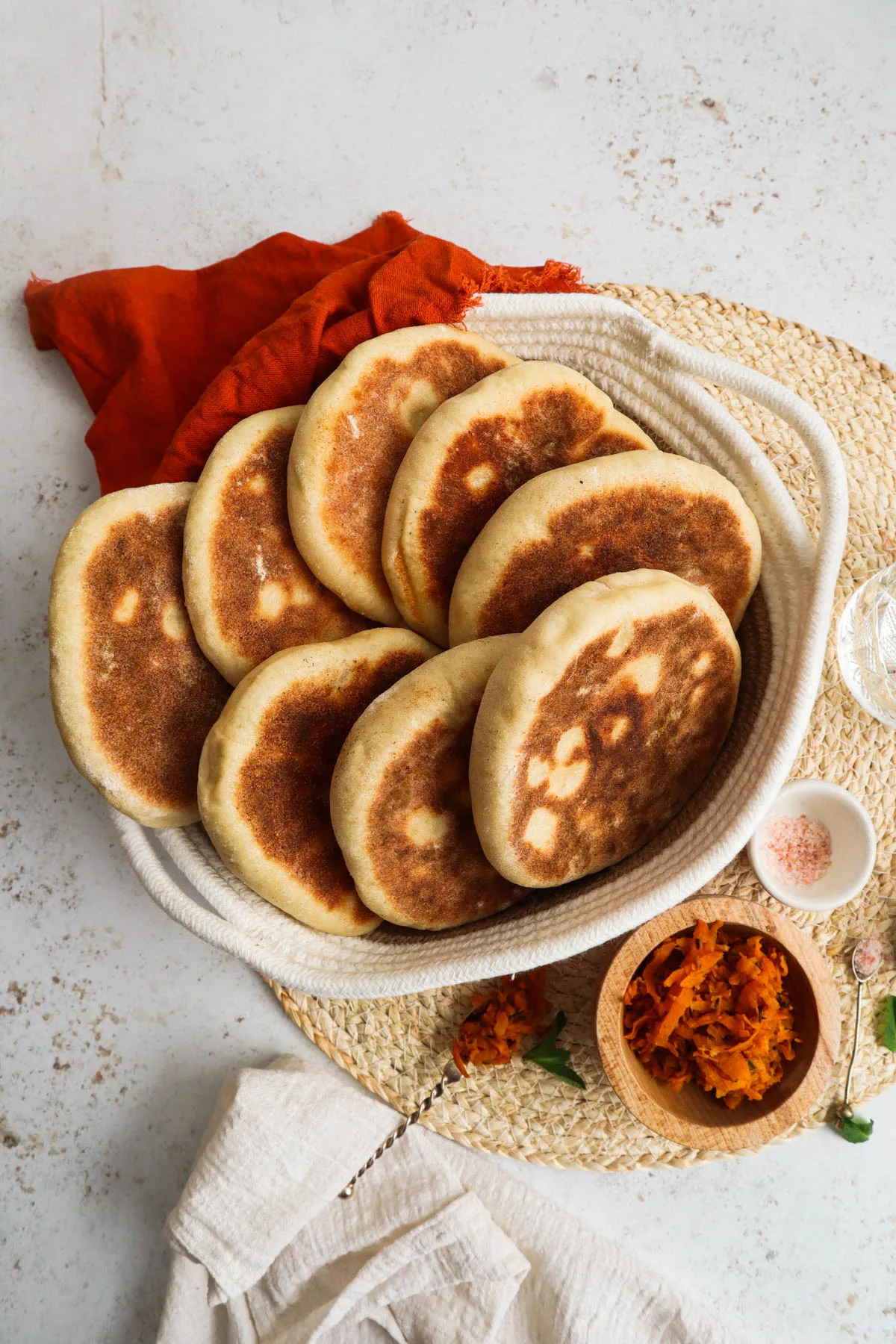 YIELD:10-12 BREADS
Batbout – Moroccan Pita Bread
total time:
2 HOURS
45 MINUTES
This is the Moroccan version of pita bread. It's cooked on the stovetop, not in the oven.
4 cups white flour
2 cups semolina or wheat flour
2 Tbsp plus 1 teaspoon sugar
2 tsp salt
3 tablespoons vegetable oil
1 Tbsp active yeast
2 cups water (approximate), divided
Activate the yeast by mixing it with ¼ cup of warm (not hot) water and a teaspoon of sugar. Set aside the mixture until it's frothy, about five to 10 minutes.
Blend the flours, sugar, and salt in a mixing bowl. Add the yeast, the oil and the rest of the water, and mix to form a dough. The dough should be soft but not sticky. If it's too sticky to work with, add a little flour one tablespoon at a time. (Remember the dough will absorb a bit more flour if you knead it by hand.)
If the dough feels a bit stiff, work in additional water, a tablespoon at a time. Knead the dough in a mixer with a dough hook, or by hand on a lightly floured surface, for about 10 minutes or until smooth and elastic.
Divide the dough into smooth balls and leave them to rest, covered, on a lightly floured surface for about 10 minutes.
Roll out each ball into a thin circle about ⅛ inch thick. Set the rolled-out dough on a clean, dry towel and cover. Leave to rise for about 1 to 1½ hours.
Preheat a very lightly oiled cast-iron skillet, griddle, or another non-stick pan over medium heat.
Cook the batbout, turning several times, until golden brown on both sides. The browning will be a bit uneven since the bread puffs up as it cooks, but that's okay.
Transfer the cooked batbout to a rack to cool. It's okay to stack them while they're warm.
A simple variation on this recipe is that instead of cooking the bread in a dry skillet, add oil and fry it to cook, and then coat in honey and butter. This Moroccan fried bread is a special treat!