In Morocco, we had a very severe lockdown from mid-March until early July 2020. It was so strict that my children never walked out our front door. When we were finally allowed the ability to travel short distances a small group of friends was invited to our mutual friends camp in the Agafay Desert.
Contrary to what many people think Marrakech is nowhere near the Sahara desert but it is near the Agafay – about 45 minutes. It's a "stone desert" meaning you won't find any rolling sand dunes. But it is a wide-open almost lunar landscape and the backdrop is the Atlas Mountains.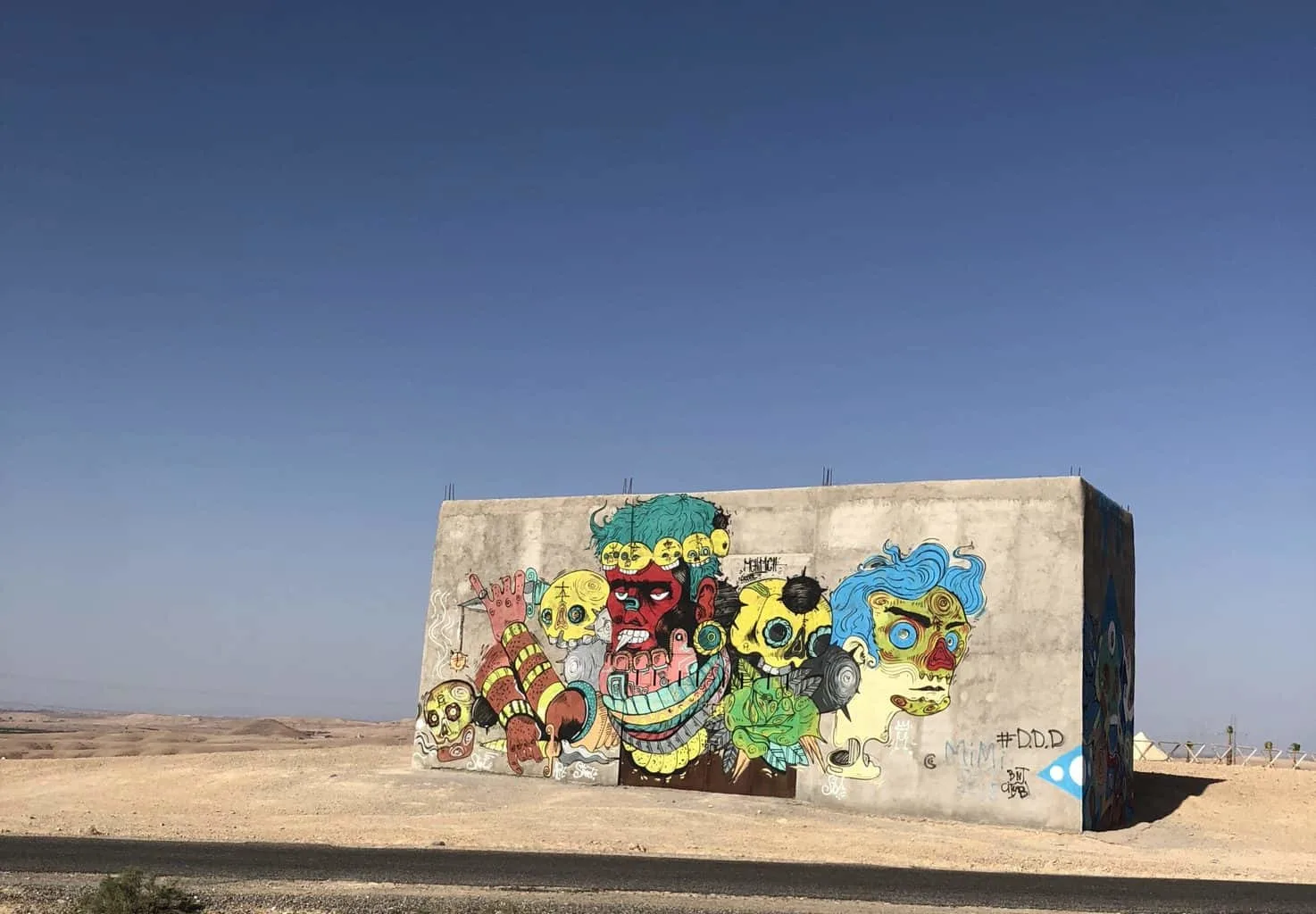 Everyone brought something to share and we were able to go swimming and simply be outside. You truly forget how wonderful such simple things are. For our gathering, I decided to make virgin bloody mary's with some garnishes. I had loads of products thanks to a vegetable delivery and tomatoes were part of the bounty.
It was very hot (mid-July in Marrakech is no joke) so I tried to stick with a Moroccan drink that wouldn't heat up my house to make and also was something that wouldn't go off in the heat.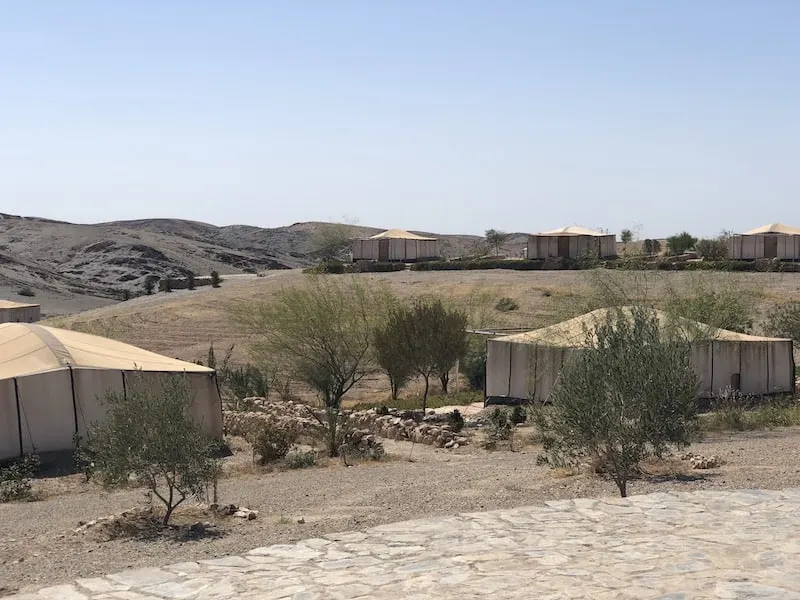 Not everyone in our group would want an alcohol-free cocktail so this was a good compromise. They can easily be adapted for those that want something stronger and those who don't drink. I also think a little bloody mary bar is good for a party because you avoid the awkwardness that often comes when you're the one that isn't having a beer or cocktail with alcohol.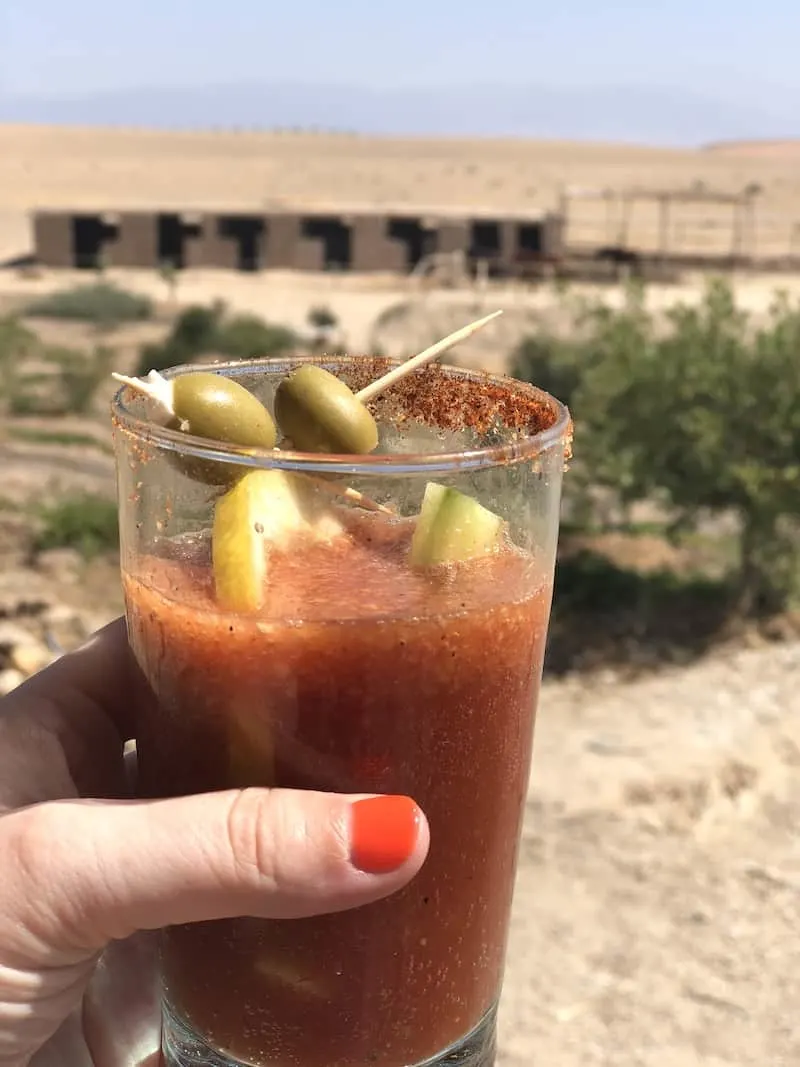 So mix up your bloody mary mix and rim spices in advance, cut up all the pieces for your garnish bar and you're ready to go! I have to admit this isn't a drink many kids enjoy so feel free to go with stronger flavors.
YIELD:8 DRINKS
Agafay Virgin Bloody Mary's
Bloody mary's are usually made with tomato juice but you can make them with fresh tomatoes too! This recipe uses fresh tomatoes for full flavor.
Bloody Mary Mix
4 fresh, large tomatoes
3 Tbsp lemon juice
1 Tbsp Worcestershire Sauce
1/2 tsp ground chipotle pepper
2 Tbsp hot sauce
1 Tbsp tomato paste
Rim Salt Mix
Coarse salt
Chipotle Pepper
Garlic powder
Celery Salt
Bloody Mary Garnishes
lemons
limes
cucumber or pickle wedges
Green Olivies
Olives stuffed with goat cheese
Pickled turnips
Pickled radishes
Cold Cooked Shrimp
Wash and remove any stems or hard bits from your tomatoes.
Add them to a blender along with the lemon juice, Worcestershire sauce, chipotle, and hot sauce. Blitz until fully combined.
The tomato paste can be added if the mixture is too thin, I use it to thicken the mixture or add more tomato flavor if the tomatoes you've used need a boost.
Because you've blended with the skin you will get more nutrients but may have bits of skin that haven't blended. You can pass the mixture through a sieve if you want to remove those bits.
Taste and adjust the mix for your palate.
Rim Salt
To make this mixture is really a personal decision. You can mix equal parts of everything or a little more of one or the other. Omit the pepper if you don't want it spicy, add more of anything to boost those tastes.
To Serve
Rub the rim of the glass with lemon juice first and twist into the rim salt, then fill with the juice mixture.
I don't like an overwhelming tomato juice flavor so I mix mine with 1/4 glass of carbonated water and the rest the bloody mary mix. This is a personal choice.
Garnish with whatever you'd like!